Ribosomal protein and biogenesis factors affect multiple steps during movement of the Saccharomyces cerevisiae Ty1 retrotransposon
Received: 21 September 2015
Accepted: 30 November 2015
Published: 8 December 2015
The Erratum to this article has been published in Mobile DNA 2016 7:5
Abstract
Background
A large number of Saccharomyces cerevisiae cellular factors modulate the movement of the retrovirus-like transposon Ty1. Surprisingly, a significant number of chromosomal genes required for Ty1 transposition encode components of the translational machinery, including ribosomal proteins, ribosomal biogenesis factors, protein trafficking proteins and protein or RNA modification enzymes.
Results
To assess the mechanistic connection between Ty1 mobility and the translation machinery, we have determined the effect of these mutations on ribosome biogenesis and Ty1 transcriptional and post-transcriptional regulation. Lack of genes encoding ribosomal proteins or ribosome assembly factors causes reduced accumulation of the ribosomal subunit with which they are associated. In addition, these mutations cause decreased Ty1 + 1 programmed translational frameshifting, and reduced Gag protein accumulation despite at least normal levels of Ty1 mRNA. Several ribosome subunit mutations increase the level of both an internally initiated Ty1 transcript and its encoded truncated Gag-p22 protein, which inhibits transposition.
Conclusions
Together, our results suggest that this large class of cellular genes modulate Ty1 transposition through multiple pathways. The effects are largely post-transcriptional acting at a variety of levels that may include translation initiation, protein stability and subcellular protein localization.
Keywords
RetrotranspositionHost factorsProgrammed frameshiftingRibosomal protein insufficiencyRibosome biogenesis
Background
The Saccharomyces cerevisiae Ty (Transposons of yeast) retrotransposons are members of the LTR (long terminal repeat) group and are similar to retroviruses both structurally and functionally [1, 2]. Like retroviruses, Ty elements undergo reverse transcription that occurs within virus-like particles (VLPs) formed from structural and enzymatic proteins encoded by two genes, GAG and POL. Ty elements are valuable as models for human retroviruses; several groups have exploited yeast genetic tools to identify genes encoding Ty host factors that modulate transposition. Knowing how these factors affect Ty retrotransposition can provide clues as to what host processes affect retrovirus or retrotransposon replication and pathogenicity. Genome-wide forward genetic screens identified host factors that are required for (cofactor genes) or prevent (restriction genes) retrotransposition by Ty1 [3–7]. The most salient feature of the genes identified in these screens is the diversity of function of their encoded products, including roles in transcription, chromatin structure and modification, intracellular signaling, cytoplasmic protein synthesis, DNA repair, RNA processing and cell cycle regulation among others. Among the most statistically overrepresented host cofactor genes are those encoding cytoplasmic ribosomal proteins [7] suggesting that Ty transposition might depend on efficient biogenesis of ribosomes. Host factors for other plus stranded viruses in yeast have not been found to be as diverse. Prominent among these is the endogenous L-A virus of S. cerevisiae. It supports the replication of satellite dsRNA molecules, one of which encodes a peptide toxin lethal to uninfected cells [8]. Maintenance of L-A and the satellites depends on availability of the large (60S) ribosomal subunit [9], implying a more global role of protein synthesis for positive stranded viruses. Because, unlike Ty1, L-A has no integrated DNA form, it does not share a dependence on genes such as those involved in transcription, chromatin recombination and DNA repair. Its dependence on 60S abundance may relate to the L-A mRNA not being polyadenylated since polyA tails facilitate 60S joining during translation initiation [10]. Thus, reduced 60S availability could reduce L-A mRNA translation relative to bulk poly(A)+ mRNA (reviewed in [11]). Ty1 expresses an abundant, poly(A)+ mRNA and depends on both 40S and 60S availability so its dependence on the translation machinery may have a different origin. Also, only three Ty1 cofactor genes were also identified as L-A host factors—SKI1/KEM1/XRNI, SKI2 and SKI8—and their Ty1 phenotype is opposite to their effect of L-A virus; these factors are required for Ty1 mobility but restrict L-A propagation. Therefore, Ty1 and L-A occupy distinct genetic niches with respect to their dependence on host proteins.
Ty elements, as well as many viruses and virus-like elements including L-A, employ an unusual translational control mechanism—programmed translational frameshifting [12]. The Ty and L-A frameshift mechanisms are distinct. Ty elements employ +1 frameshifting, in which translation shifts one base in the downstream or 3′ direction, while L-A uses -1 frameshifting, shifting one base in the opposite direction. The Ty1-encoded enzymatic (Pol) protein is encoded as a fusion to the upstream-encoded Gag structural protein by +1 frameshifting at a 7 nt RNA signal [13]. A similar or identical signal is used in all but the Ty5 element. The frequency of Ty1 frameshifting is approximately 40 % measured in a reporter gene construct containing only the frameshift signal [13]. In the intact Ty1 element the Gag-Pol protein is expressed at 3 % the amount of the Gag protein, suggesting a further ~10-fold reduction in expression of Gag-Pol, which may result from either a translational effect during elongation through the POL gene or reduced stability of Gag-Pol relative to Gag protein; changes to this ratio blocked retrotransposition [14]. Altered Gag to Gag-Pol stoichiometry also reduces transposition of many other viruses [15–20]. Because retrotransposition frequency requires a specific level of programmed frameshifting, that process could explain the dependence of retrotransposition on efficient ribosome biogenesis.
In addition to cellular cofactor and restriction genes that affect Ty1 transposition, a protein expressed from subgenomic internally initiated Ty1i transcripts (Gag-p22) containing the C-terminal half of Gag is a self-encoded restriction factorthat inhibits transposition and controls Ty1 copy number [21]. Gag-p22 antagonizes VLP function by interfering with assembly of VLPs and assembly foci [22], called T-bodies [23] or retrosomes [24]. Well-known Ty1 cofactors such as SPT3 and XRN1, which are implicated in full-length transcription [25], and RNA turnover and VLP function [26–28], respectively, influence the level of Ty1i RNA [21]. However, additional cellular genes that modulate Ty1i/Gag-p22 expression remain to be discovered, and in fact, may be present in Ty1 cofactor or restriction gene collections. A clue to what types of factors might influence this effect is the fact that formation of retrosomes requires co-translational insertion of the Ty1 Gag protein into the endoplasmic reticulum (ER) [22]. Interfering with ER insertion blocks formation of retrosomes and the Gag protein produced is more rapidly degraded. This suggests that some Ty1 cofactor genes might encode factors required for Gag ER insertion.
To gain a more thorough understanding of the relationship between ribosome biogenesis and Ty1 transposition, we analyzed the effect on Ty1 transposition of chromosomal deletions that remove structural proteins of the 40S and 60S ribosomal subunits as well as proteins involved in ribosomal processing or protein synthesis. We show that translation-associated cofactor deletion mutants affect Ty1 transposition through a combination of mechanisms. Most of the mutants tested show reduced accumulation of the corresponding ribosomal subunit, significantly decreased +1 programmed translational frameshifting at the Ty1 site, and reduced expression of Gag protein despite expressing at least normal amounts of Ty1 mRNA. Interestingly, several ribosome subunit mutants also express more Ty1i RNA relative to Ty1 mRNA and significant amounts of Gag-p22 and its C-terminally processed product, Gag-p18, consistent with the idea that producing more of the transpositional inhibitor Gag-p22 contributes to the Ty1 defects in these mutants [21]. Together, our results suggest that multiple post-transcriptional processes are required for optimal Ty1 transposition.
Discussion
The number and diversity of genes identified as host factors for Ty1 retrotransposition reflects the complexity of the Ty1 lifecycle [2]. Many host restriction and cofactor genes encode proteins involved in basic processes of cellular information transfer with those involved in protein synthesis being significantly overrepresented among the Ty1 cofactor genes, which are required for optimal level of transposition [7]. Similarly, mutations targeting 60S ribosomal proteins are also required for propagation of the yeast L-A double-stranded RNA virus [9]; L-A shares several features with retroviruses and retrotransposons (reviewed in [11]) so this shared mode of control may reflect similar mechanisms of propagation. Quantitative assays of Ty1 mobility (Table 1) validate the requirement for 13 ribosomal proteins genes and three ribosome biogenesis genes (RRP6, RRP8 and KAP123). As expected, most but not all mutants lacking 40S or 60S structural proteins or biogenesis factors are deficient in the corresponding subunit. It has long been recognized that biogenesis of the two subunits diverges early in biogenesis with a 90S pre-ribosome containing immature forms of both subunits dividing into a pre-40S and pre-60S complexes (reviewed in [63]). No comprehensive test of the effect of ribosomal protein depletion on ribosome biogenesis has been performed but most of the proteins have been tested and in all cases the lack of a ribosomal protein blocks maturation and accumulation of the corresponding subunit [49, 64].
The role of individual ribosomal proteins in ribosome biogenesis appears to be regional with proteins that bind in similar locations on the ribosome having roles in early, middle or late subunit biogenesis [
49
,
64
]. Paradoxically, only a subset of ribosomal protein genes has been identified as Ty1 cofactors, totaling 33 of the 138 ribosomal protein genes. If this subset were a discrete group based on their function in ribosome function or biogenesis their protein products would be expected to cluster in a similar fashion in the ribosome. We have tested the Ty1 mobility phenotype of other ribosomal protein genes not previously characterized as Ty1 cofactor genes, 19 using the qualitative test and 12 of those using the quantitative test and found that each had reduced Ty1 mobility (Additional file
2
: Table S1), expanding the number of ribosomal protein cofactor genes to 52 and suggesting strongly that most ribosomal proteins may in fact be encoded by cofactor genes that may have escaped detection because of differences in mutant strain backgrounds, transposition assays, or strength of the Ty1 mobility phenotype. These 52 genes encode 37 proteins, representing 47 % of the 80S proteins, are distributed throughout the structure of the 80S ribosome with no obvious evidence of clustering (Fig.
6a
-
d
). This distribution strongly implies that their function in Ty1 mobility has little or nothing to do with their location on the ribosome, or any specific role in biogenesis or during translation. The Ty1 cofactor phenotype may be a generic effect of mutations that cause a significant reduction in subunit availability. A comprehensive analysis of the effect of ribosomal protein depletion on Ty1 mobility would confirm this conjecture but is outside the scope of this study.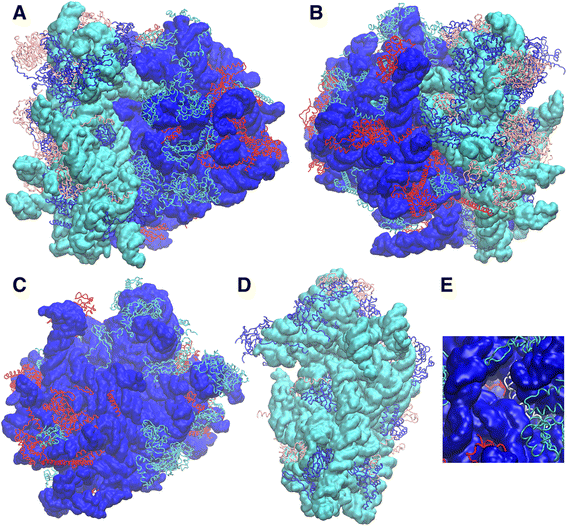 Based on Gag protein expression, we can divide these genes into three groups: the 40S ribosomal protein genes (strongly reduced Gag accumulation and processing), the majority of the 60S genes (slightly reduced Gag accumulation but normal processing) and
rpl1B
∆ and
rpl39
(complete loss of detectable Gag; see Table
2
for a summary of all phenotypes). The reduction in accumulation of Gag is likely not transcriptional because of the lack of correlation between the accumulation of Ty1 mRNA and Gag protein. The effect could result from decreased protein stability or aberrant ER translocation [
22
] as we suspect in one case noted below, but given the primary defect is in availability of ribosome subunits, the most likely model is that translational insufficiency reduces Gag accumulation. The distinct effect on accumulation in the 40S and most 60S mutants could reflect a difference in the way that mRNAs compete for the two subunits. Binding of 40S subunits to individual mRNAs can differ widely among cellular transcripts based on sequence and structure with some mRNAs competing much more efficiently than others (reviewed in [
65
]). Recruitment of the 60S subunit should be less context dependent since the 60S mainly recognizes the 40S subunit once the initiation factors making up the 43S preinitiation complex have dissociated; there is no reason to suppose that some mRNAs compete more effectively at that stage of initiation. The greater reduction caused by reduced availability of 40S subunits, then, suggests that the Ty1 mRNA competes much less effectively for 43S preinitiation complex than does the average yeast mRNA. One reason for this could be that the Ty1 mRNA has an unusual structure and recent work has demonstrated that the 5′ end of the Ty1 mRNA forms a phylogenetically conserved RNA pseudoknot [
66
]. Mutational destabilization of the pseudoknot causes a modest increase in Gag accumulation, suggesting that the pseudoknot may inhibit Ty1 mRNA translation [
66
]. The same destabilizing mutations have the opposite effect—strongly decreasing Ty1 transposition—implying that the 5′ pseudoknot may play a structural role during the retrotransposition process [
66
]. These observations, however, do not contradict our finding that reducing 40S availability strongly reduces Gag accumulation. The highly structured nature of the 5′ end of the mRNA should reduce the efficiency of 43S complex binding, thus reducing the amount of Gag available to form virus-like particles. We do not imagine any direct effect of 40S availability on the role played by the 5′ pseudoknot during retrotransposition.
Table 2
Summary of experimental results
| Gene | Functiona | Ty1 moblility relative to WT | Frameshifting relative to WT | Polysome effects | Gag relative to WT | Ty1 mRNA relative to WT |
| --- | --- | --- | --- | --- | --- | --- |
| RPL1B | LSU protein | 0.12 | 0.23 | ↓60S/halfmers | 0.001 | 2.0 |
| RPL4A | " | 0.48 | 0.70 | ↓60S/halfmersb | 0.60 | 1.6 |
| RPL15B | " | 0.07 | 1.0 | ~WT | 0.80 | n.d. |
| RPL21A | " | 0.12 | 0.67 | n.d. | 0.46 | 1.9 |
| RPL27A | " | 0.16 | 0.39 | ↓60S/halfmers | 0.70 | 2.0 |
| RPL39 | " | 0.005 | 0.44 | ↓60Sc | 0.002 | 0.75 |
| RPL41B | " | 0.20 | 1.1 | ~WT | 0.86 | 1.4 |
| RPP2B | " | 0.08 | 0.50 | WTd | 0.65 | 2.0 |
| RPS0B | SSU protein | 0.14 | 0.40 | ↓40S | 0.30 | 0.71 |
| RPS9B | " | 0.12 | 0.57 | n.d. | 0.37 | 1.2 |
| RPS10A | " | 0.12 | 0.43 | ↓40S | 0.20 | 1.0 |
| RPS19B | " | 0.04 | 0.50 | ↓40S | 0.35 | 0.12 |
| RPS25A | " | 0.20 | 1.0 | ~WTe | 0.14 | n.d. |
| RRP6 | LSU processing | 0.07 | 0.69 | ↓60S/halfmers | 0.45 | n.d. |
| RRP8 | SSU processing | 0.10 | 0.50 | ↓40S | 0.76 | 0.88 |
| KAP123 | 60S nuclear export | <0.01 | 0.99 | ~WT | 0.44 | 1.8 |
The phenotype of the rpl1B∆ and rpl39∆ mutants is quite distinctive. The lack of accumulation of Gag in these mutants despite the presence of Ty1 mRNA strongly suggests a post-transcriptional block. The striking inability to detect Gag protein in the rpl39∆ mutant is consistent with it having the lowest Ty1 mobility frequency of any of the mutants, 210-fold less than wild type. The rpl1B∆ mutant with a similar Gag accumulation phenotype, however, supports Ty1 mobility slightly more than the average of the mutants tested. Because the rpl1B∆ mutation causes a relatively small decrease in mobility we suspected that the low level of Gag detected in the rpl1B∆ mutant results from its being sequestered and not easily extracted. A harsher method of extraction detected no more Gag protein but overexpressing the Ty1 mRNA in this mutant background using a Gal-driven element resulted in significantly more Gag detected but also restored near normal Ty1 mobility. We cannot exclude that Gag is sequestered in the rpl1B∆ mutant and we are unable to explain why, despite their similar Gag phenotype, the rpl1B∆ and rpl39 mobility phenotypes are so different. The location of the Rpl39 protein in the ribosomal subunit provides a clue to the origin of the difference. RPL39 being a single copy gene, the deletion mutant accumulates 60S subunits lacking the protein. Rpl39 is located at the opening of the peptide exit tunnel (see Fig. 6e) and interacts with the hydrophobic signal anchor sequence of a nascent protein during co-translational insertion into the endoplasmic reticulum (ER) [67]; this interaction appears to be important for targeting proteins to the ER [68]. Doh et al. [22] demonstrated that VLP assembly sites are nucleated by targeting of ribosomes translating Ty1 mRNAs to the ER by contranslational insertion of Ty1 proteins into the ER. The formation of cytoplasmic foci [22], called T-bodies [23] or retrosomes [24] may be necessary for efficient formation of VLPs and therefore for maximal Ty1 mobility. Ty1 Gag is synthesized but is less stable when targeting to the ER is blocked. This suggests that a block to ER targeting caused by the absence of Rpl39 inhibits VLP assembly and Gag accumulation, resulting in a severe transposition defect.
Conclusions
The overall conclusion of this work is that failure in ribosome biogenesis results in reduced Ty1 mobility with distinct phenotypes for mutants deficient in 40S and 60S subunit proteins. The effect shows no clear connection to a particular step in biogenesis or the position of the protein within either subunit. The effect is largely translational involving both decreased programmed translational frameshifting, reduced efficiency of translation and possibly increased instability of newly synthesized Ty1 Gag protein. A connection has been made to co-translational insertion of Ty1 Gag protein into the endoplasmic reticulum both by the severe phenotype of a mutant lacking the Rpl39 protein, which plays a role in targeting co-translational ER insertion and our demonstration of the accumulation of the Ty1i protein and Gag-p22/p18 in several of the translation-associated Ty1 cofactor mutant strains. Experiments are continuing to determine whether the connection between ribosome subunit sufficiency and Ty1 mobility is through the disruption of this newly discovered step in the Ty1 transposition process. Future studies will address how the individual pathways identified here modulate Ty1 gene expression and function, and whether similar processes also affect other retroelements.
Abbreviations
ER:

endoplasmic reticulum
Gag:

group specific antigen
L-A:

a Large double-stranded RNA virus of Saccharomyces cerevisiae
LSU:

large ribosomal subunit
LTR:

long terminal repeat
POL:

POLymerase; the retroviral polyprotein processed to produce the protease, reverse transcriptase, RNase H and integrase enzymes
RT:

reverse transcriptase
SSU:

small ribosomal subunit
Ty:

transposon of yeast
VLP:

virus-like particle
Declarations
Acknowledgements
We thank Stephen Hajduk for sharing equipment, and Jessica M. Tucker, Agniva Saha and Yuri Nishida for helpful discussions. Thanks to Thomas L. Mason for the gift of anti-Hts1 antibody. This work was supported by NIH grants GM095622 (D.J.G) and GM029480 (P.J.F.).
Open AccessThis article is distributed under the terms of the Creative Commons Attribution 4.0 International License (http://creativecommons.org/licenses/by/4.0/), which permits unrestricted use, distribution, and reproduction in any medium, provided you give appropriate credit to the original author(s) and the source, provide a link to the Creative Commons license, and indicate if changes were made. The Creative Commons Public Domain Dedication waiver (http://creativecommons.org/publicdomain/zero/1.0/) applies to the data made available in this article, unless otherwise stated.
Authors' Affiliations
(1)
Department of Biological Sciences and Program in Molecular and Cell Biology, University of Maryland Baltimore County, Baltimore, USA
(2)
Department of Biochemistry & Molecular Biology, University of Georgia, Athens, USA
(3)
Present address: Division of Infectious Diseases, Department of Internal Medicine, Stanford University School of Medicine, Stanford, USA
(4)
Present address: Department of Nanosciences and Technology, Karunya University, Coimbatore, India