Non-canonical Helitrons in Fusarium oxysporum
Received: 22 September 2016
Accepted: 3 December 2016
Published: 9 December 2016
Abstract
Background
Helitrons are eukaryotic rolling circle transposable elements that can have a large impact on host genomes due to their copy-number and their ability to capture and copy genes and regulatory elements. They occur widely in plants and animals, and have thus far been relatively little investigated in fungi.
Results
Here, we comprehensively survey Helitrons in several completely sequenced genomes representing the F. oxysporum species complex (FOSC). We thoroughly characterize 5 different Helitron subgroups and determine their impact on genome evolution and assembly in this species complex. FOSC Helitrons resemble members of the Helitron2 variant that includes Helentrons and DINEs. The fact that some Helitrons appeared to be still active in FOSC provided the opportunity to determine whether Helitrons occur as a circular intermediate in FOSC. We present experimental evidence suggesting that at least one Helitron subgroup occurs with joined ends, suggesting a circular intermediate. We extend our analyses to other Pezizomycotina and find that most fungal Helitrons we identified group phylogenetically with Helitron2 and probably have similar characteristics.
Conclusions
FOSC genomes harbour non-canonical Helitrons that are characterized by asymmetric terminal inverted repeats, show hallmarks of recent activity and likely transpose via a circular intermediate. Bioinformatic analyses indicate that they are representative of a large reservoir of fungal Helitrons that thus far has not been characterized.
Keywords
HelitronsTransposonRolling circleTerminal inverted repeatsHelitron2Helentrons Fusarium oxysporum
Background
Transposable elements (TEs) are stretches of DNA that are able to copy or move from one site to another in a genome. Autonomous TEs contain one or more sequences coding for proteins that are involved in transposition, combined with TE-specific DNA motifs such as terminal inverted repeats. These motifs are required for transposition. Non-autonomous elements possess the DNA motifs but do not encode a functional transposase. They profit from their autonomous counterparts and often greatly outnumber them.
Helitrons are a family of TEs that encode an Y2-transposase consisting of an N-terminal rolling circle replication initiator (Rep) domain and a C-terminal helicase (Hel) domain. They were first characterized in an in silico analysis of the genomes of A. thaliana, O. sativa and C. elegans [1], where they were found to have a 5'-TC and 3'-CTRR (where R stands for A or G) motif and a short hairpin at 10–12 nucleotides distance from the 3' terminus. Recent reports indicate that Helitrons can be divided into two groups: Helitron1 and Helitron2 [2–4]. The motifs that were found upon first discovery of Helitrons are specific to the Helitron1. In contrast Helitron2 TEs are characterized by an asymmetric terminal inverted repeat (ATIR) and a hairpin at both termini. Helentrons cluster phylogenetically with Helitron2 proteins and possess similar termini, but, in addition to the Rep and Hel domains, they possess an endonuclease domain that they obtained through insertion of a retrotransposon [2–6]. DINEs, also known as HINEs, the most abundant TE in Drosophila, are non-autonomous elements derived from Helentrons [3] (see [7] for a recent review).
Recent in-depth analyses of a mobile pathogenicity chromosome of the ascomycete Fusarium oxysporum f. sp. lycopersici strain Fol4287 revealed 9 nearly identical genes encoding proteins with a Rep-Hel domain architecture [8]. The Fusarium oxysporum species complex (FOSC) consists of clonal lines of Fusarium oxysporum, a filamentous fungus that colonizes plant roots and occasionally enters the plant's roots and vascular system, causing wilting or root-rot disease symptoms. Individual pathogenic strains are usually pathogenic to only a small number of related host plants, but the species complex as a whole is a versatile pathogen with great economic impact [9]. Fusarium oxysporum represents an extreme case of a two-speed genome: its chromosomes can be classified as either 'core' or 'lineage specific' (LS), where core chromosomes are largely syntenic with chromosomes of other Fusarium species, while LS chromosomes are largely absent in other Fusarium species [10–12]. The LS chromosomes are enriched in TEs and in genes involved in pathogenicity. Genomes of 12 strains of this species complex have been sequenced, assembled and annotated [13], providing an excellent dataset for a thorough study of Helitrons in an ascomycete.
The genomic impact of Helitrons, in terms of copy number as well as in terms of whether Helitrons inserted in or near genes, varies strongly between different species (see [7] for a recent review). This depends on transposition efficiency and effectiveness of TE silencing, but also on whether we are observing a host genome that experienced a recent Helitron outbreak versus the remnants of past activity. In the latter case we expect for example that Helitron copies that adversely affect coding or regulatory regions or gene regulation have been removed from a population through purifying selection. A factor that is often overlooked is the completeness of genome assembly. Within our FOSC dataset, the genomes are assembled up to different levels of completeness, which allows us to assess the impact of incomplete genome assembly on copy number estimates.
A recent study using a reconstructed ancestral bat Helitron1 sequence provided important insights into the mechanisms underlying transposition and gene capture in canonical Helitrons [14]. First of all, the authors could demonstrate that Helitrons transpose as single stranded DNA. This is congruent with the fact that Helitrons do not cause target site duplications that are associated with double stranded, staggered breaks. Recent biochemical studies show that they transpose via copy-paste rather than cut-and-paste, which explains their high copy number [14]. Helitrons can capture (parts of) genes and thus contribute to the emergence of new genes through combining of different coding and non-coding sequence that have been sequentially captured [4, 6, 7, 14–22]. Grabundzija and others confirmed the 'end-bypass' model of gene capture in Helitrons, in which the transposase skips the 3' terminus and thus includes 3' flanking DNA sequence in the excised Helitron. Finally, Grabundzija and others demonstrated that canonical Helitrons occur as a circular intermediate [14], as has been observed previously for the Insertion Sequence IS91 in Escherichia coli [23]. Transposition via a circular intermediate can also explain the presence of multiple tandem insertions of truncated Helitrons that have recently been found in plant centromeres [24]. This indicates that the processes of excision and insertion are decoupled in Helitrons. We extensively survey footprints of past Helitron activity, focussing on putative Helitron self-insertions, to shed light on the transposition process in FOSC Helitrons.
Helitrons are found in a wide range of eukaryotes, including plants, animals, fungi and oomycetes, but have predominantly been described in plants and animals [1, 4–6, 15, 18, 21, 25–37]. We ask whether FOSC Helitrons are relatively unique or whether they represent a larger and relatively unknown reservoir of Pezizomycotina Helitrons. Finally, we study conservation of terminal sequences and ask how the Helitrons we uncovered are related to the two known Helitron families.
Discussion
Detection of non-canonical Helitrons
FoHelis likely represent a large reservoir of Pezizomycotina Helitrons that group phylogenetically with Helitron2 transposons, suggesting that most fungal Helitrons have non-canonical termini (Fig. 5). Indeed, we were able to confirm that Helitrons with FoHeli-like termini also occur in other fungi (Additional file 9: Table S9, Fig. 6). In the case of the FOSC, we would not have detected any Helitrons using conventional approaches based on termini or DNA sequences of canonical Helitrons [5, 18, 20, 39]. Our analyses of predicted putative Helitrons in other fungi suggests that the same may hold true for many other species [38, 40].
Another factor that hampered detection of FoHelis is their size. Genome assemblies based on second generation sequencing data are unlikely to include recently transposed elements of more than 5 kb [44, 45, 54]. Hence the repeat content of genomes that are assembled to different levels of completeness cannot be directly compared [40, 54]. Similarly, non-autonomous elements are often more abundant than their autonomous counterparts [1, 3], which can be explained by the intuitive assumption that shorter sequences are more efficiently transposed. On the other hand, non-autonomous elements are more likely to be assembled in one piece and therefore more easily detected. Hence we may have been overestimating their success as a parasite's parasite. Improvements in genome assembly through the use of third and fourth generation sequencing technologies will allow us to better estimate and compare the TE repertoires of different genomes, to reconstruct the influence of transposons on genome evolution, but also to gain understanding on (co-) evolution of selfish elements in and across host genomes [19, 55–57].
Self-insertion may have led to composite FoHelis
Self-insertion can lead to nested, composite or chimeric Helitrons [
14
,
24
,
30
]. In this study, we've found one example of a non-autonomous FoHeli nested into a putative autonomous one. Moreover, we've found a number of FoHelis in which multiple 5' termini were combined with a single 3' terminus. Typically, the 5' sequence that is duplicated is short (<200 bp). These 5' duplications may stem from nested FoHelis that result from self-insertion. If, during transposition, the transposase nicks the leftmost 5' terminus of the nested Helitron, and continues to unwind the DNA until it encounters the first 3' terminus, where it stops, it may transpose a FoHeli with two 5' termini (Fig.
7
). Reversal of ORF orientation may also stem from a composite or nested Helitron, in which one copy is inserted into the other in opposite orientation, after which the innermost set of termini is deleted or mutated and only the extreme termini are preserved (Fig.
8
).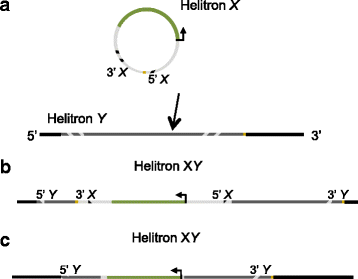 Detection of circular intermediates
Results from this study indicate that FoHelis, like canonical Helitrons [14] transpose via a circular intermediate. However, we failed to amplify circular Helitrons using Rolling Circle Amplification, suggesting that we need additional preprocessing steps to enrich our genomic DNA samples for circular DNA other than from mitochondria to find circular Helitrons via this approach (e.g. as in [58, 59]). DNA isolation provides a snapshot of DNA content of a large number of cells and for a Helitron circle to be present, it has to transpose at that exact time. Therefore we expect very few circles to be present in one DNA sample and need extremely sensitive methods to detect them.
Which FoHelis are still active in the FOSC?
In Fol4287, we've found two identical copies of FoHeli1 that, judging from their flanking sequences, arose through transposition rather than segmental duplication. Moreover, FoHeli1 is the subgroup we have found most at contig borders in Fol4287 and for which we found a PCR amplicon that could stem from a circular intermediate. This suggests that FoHeli1 is still active in the genome of Fol4287. The other subgroup that appeared to have had a strong impact on genome assembly is FoHeli2 that is predicted to occur in high copynumber in brassicaceae-infecting isolates. In contrast to the genome of Fol4287, the genomes of these isolates have not been assembled with the aid of an optical map. Improved assemblies, combined with detection of putative circular intermediates, may shed light on when FoHeli2 was active in these isolates.
Conclusions
Helitrons have been studied for more than a decade, where the main focus has been on canonical Helitrons, or Helitron1, in plants and animals. Here we present the first study of non-canonical Helitron transposons in Pezizomycotina, shedding light on a Helitron variant in a subphylum that both have been relatively underrepresented in scientific literature on Helitrons. In FOSC, we've identified 2 groups with distinct terminal sequences. We presented data suggesting that FOSC Helitrons transpose via a circular intermediate, which has been shown for canonical Helitrons very recently [14]. Importantly, we found that most Pezizomycotina Helitrons are probably non-canonical. The information we provide here will aid in future identifications of Helitrons and thus contribute to a more accurate characterization of transposon repertoires, especially in Pezizomycotina.
Declarations
Acknowledgements
The autors are very grateful to Frank Takken for useful discussions. The genome sequencing and annotation for 11 strains were supported by the National Research Initiative Competitive Grants Program Grant no. 2008-35604-18800 and MASR-2009-04374 from the USDA National Institute of Food and Agriculture.
Funding
Biju V.C. is supported by the Erasmus Mundus External Cooperation Window 15 (EMECW15). Like Fokkens is supported by a Horizon grant from the Netherlands Genomics Iniative. The genome sequencing and annotation for 11 strains were supported by the National Research Initiative Competitive Grants Program Grant no. 2008-35604-18800 and MASR-2009-04374 from the USDA National Institute of Food and Agriculture.
Availability of data and materials
FOSC Helitron sequences have been submitted to RepBase. FOSC genome sequences can be downloaded from GenBank: Fusarium oxysporum f. sp. lycopersici 4287, accession number GCA_000149955.2; Fusarium oxysporum f. sp. lycopersici MN25, accession number GCA_000259975.2; Fusarium oxysporum f. sp. pisi HDV247, accession number GCA_000260075.2; Fusarium oxysporum f. sp. radicis-lycopersici 26381, accession number GCA_000260155.3; Fusarium oxysporum f. sp. vasinfectum 25433, accession number GCA_000260175.2; Fusarium oxysporum f. sp. cubense tropical race 4 54006, accession number GCA_000260195.2; Fusarium oxysporum f. sp. conglutinans race 2 54008, accession number GCA_000260215.2; Fusarium oxysporum f. sp. raphani 54005, accession number GCA_000260235.2; Fusarium oxysporum f. sp. melonis 26406, accession number GCA_000260495.2; Fusarium oxysporum Fo47, accession number GCA_000271705.2; Fusarium oxysporum FOSC 3-a, accession number GCA_000271745.2; Fusarium oxysporum Fo5176, accession number GCA_000222805.1.
Authors' contributions
BVC designed and performed PCR experiments and bioinformatic analyses and assisted in writing the manuscript, PvD performed RCA experiments, LF designed and performed bioinformatic analyses and wrote the manuscript, MR and BJC Cornelissen assisted in experimental design and writing the manuscript. All authors read and approved the final manuscript.
Competing interests
The authors declare that they have no competing interests.
Consent for publication
Not applicable.
Ethics approval and consent to participate
Not applicable.
Open AccessThis article is distributed under the terms of the Creative Commons Attribution 4.0 International License (http://creativecommons.org/licenses/by/4.0/), which permits unrestricted use, distribution, and reproduction in any medium, provided you give appropriate credit to the original author(s) and the source, provide a link to the Creative Commons license, and indicate if changes were made. The Creative Commons Public Domain Dedication waiver (http://creativecommons.org/publicdomain/zero/1.0/) applies to the data made available in this article, unless otherwise stated.
Authors' Affiliations
(1)
Department of Computational Biology and Bioinformatics, University of Kerala, Trivandrum, India
(2)
Molecular Plant Pathology, Swammerdam Institute for Life Sciences, Faculty of Science, University of Amsterdam, Amsterdam, The Netherlands