Association of zygotic piRNAs derived from paternal P elements with hybrid dysgenesis in Drosophila melanogaster
Received: 6 November 2017
Accepted: 15 January 2018
Published: 6 February 2018
Abstract
Background
P-element transposition in the genome causes P-M hybrid dysgenesis in Drosophila melanogaster. Maternally deposited piRNAs suppress P-element transposition in the progeny, linking them to P-M phenotypes; however, the role of zygotic piRNAs derived from paternal P elements is poorly understood.
Results
To elucidate the molecular basis of P-element suppression by zygotic factors, we investigated the genomic constitution and P-element piRNA production derived from fathers. As a result, we characterized males of naturally derived Q, M' and P strains, which show different capacities for the P-element mobilizations introduced after hybridizations with M-strain females. The amounts of piRNAs produced in ovaries of F1 hybrids varied among the strains and were influenced by the characteristics of the piRNA clusters that harbored the P elements. Importantly, while both the Q- and M'-strain fathers restrict the P-element mobilization in ovaries of their daughters, the Q-strain fathers supported the production of the highest piRNA expression in the ovaries of their daughters, and the M' strain carries KP elements in transcriptionally active regions directing the highest expression of KP elements in their daughters. Interestingly, the zygotic P-element piRNAs, but not the KP element mRNA, contributed to the variations in P transposition immunity in the granddaughters.
Conclusions
The piRNA-cluster-embedded P elements and the transcriptionally active KP elements from the paternal genome are both important suppressors of P element activities that are co-inherited by the progeny. Expression levels of the P-element piRNA and KP-element mRNA vary among F1 progeny due to the constitution of the paternal genome, and are involved in phenotypic variation in the subsequent generation.
Keywords
Zygotic piRNAsPaternal P elementspiRNA clusterHybrid dysgenesisNatural strains
Background
Transposable elements (TEs) are major structural constituents of eukaryotic genomes. Although their mobilization provides genetic variation and drives genome evolution [1, 2], TEs exert deleterious effects on the host. For example, TE mobility in Drosophila melanogaster causes germline abnormalities known as hybrid dysgenesis (see below for details). The host counteracts this deleterious effect through various pathways, including Piwi-interacting small RNAs (piRNAs).
piRNAs are small non-coding RNAs that are generally 24–35 nucleotides (nt) long and act to suppress TE expression [3]. piRNAs are generated from particular genomic loci, called piRNA clusters that consist of many TEs. Two types of piRNA clusters have been identified in D. melanogaster; dual-strand and unistrand clusters are dominant in germline cells and somatic cells, respectively. In the dual-strand piRNA cluster, transcription occurs in both directions to produce long precursor single-stranded RNAs that are subsequently chopped into 24- to 35-nt RNAs. These are loaded onto Piwi-family proteins to direct the cleavage of complementary RNAs, including TE mRNAs. The cleaved RNAs are then loaded onto a Piwi family protein to aid in the cleavage of complementary based RNA, a reaction known as the "ping-pong cycle." In the unistrand piRNA cluster, long precursor RNAs are transcribed in a single direction. Because TEs are inserted predominantly into the unistrand piRNA clusters in the reverse orientation to the precursor transcription, they can serve as a source of TE-derived antisense piRNAs that are used by the PIWI protein to induce repressive chromatin modification [4–9]. Owing to these biogenesis pathways, piRNAs are generated and retained primarily in the cytosol, although a fraction of them are transported into the nucleus. One hundred forty-two piRNA clusters have been identified in the D. melanogaster genome, but piRNA production levels supplied by these clusters are highly variable [3]. Clusters with high piRNA production are called active piRNA clusters, while others are referred to here as low activity piRNA clusters.
P elements are DNA transposons that propagate in the D. melanogaster genome and include both structurally complete and incomplete variants. Autonomous 2907-bp complete elements encode an 87-kDa transposase, for which expression can be detected in germline cells [10–12]. P elements are responsible for a phenomenon called "P-M hybrid dysgenesis." Progeny of a cross between an M-strain female with no P-element and a P-strain male carrying complete P elements demonstrate increased frequencies of P-element transposition resulting in germline cell abnormalities. These abnormalities can include gonadal dysgenesis (GD) with sterility, chromosomal breaks, mutations, and male recombination [13–16]. Therefore, although recent reports argue against the involvement of the P transposition in GD [17, 18], previous reports indicate that P-strain males have a high ability to mobilize P elements in their progeny (high P inducibility), and M-strain females are not able to repress P transposition (high P susceptibility) [19–24].
When P-strain males are mated with P-strain females, P-element mobilization in the germline cells of their progeny is prevented by maternally deposited repressors [14, 25]; therefore, P-strain females have low P susceptibility. It has been proposed that the GD phenotype in female progeny (i.e., P susceptibility) is determined largely by cytoplasmic factor(s) in the maternal oocytes, rather than by the genotype of either the daughters or the mothers. Thus, the oocytes are distinguished as "cytotypes." M-strains females produce oocytes of "M cytotype," which produce dysgenic daughters when crossed with a P-strain male. P strain females produce oocytes of "P cytotype," which produce normal daughters. The major molecular entity that determines the P-M cytotype in oocytes has been proposed as a cytosolic P-element piRNA that is inherited by the daughters to suppress P transposition [26, 27]. It also has been reported that P mobilization in progeny is controlled by other factors, such as proteins produced from full-length (type I, 66-kDa repressors) and internally deleted elements (type II, KP repressors) [25, 28–34]. The KP elements, non-autonomous incomplete variants with a nucleotide deletions at 808–2060, are present ubiquitously in natural populations [28, 29, 35] and supply the most common type II repressor protein that inhibits P-element transposition [29–33, 36, 37].
The Q and M′ strains have distinct characteristics from P and M strains and are of great interest. The M′ strains carry P-element copies or P-element-like copies in their genomes, but they behave as M strains. Thus, when M′-strain females are crossed with P-strain males, P-elements are transposed. The Q strains also carry P elements that are not mobilized, even upon paternal transmission. The difference between M′ and Q is the P susceptibility; when Q-strain females are crossed with P-strain males, P transposition is prevented. In a previous study, we proved that the M′-strain progeny produced lower levels of maternal piRNAs than the Q-strain progeny [38]. On the other hand, when M-strain females are crossed with Q- or M′-strain males (Q or M′ hybrids), P transposition is prevented, although the mechanisms are not fully elucidated. Thus, the Q and M′ strains have low P inducibility, despite the presence of P elements in their genomes. The Q and M′ strains are most common in the natural populations in Eurasia, Africa, Australia, and the Far East [18, 39, 40]. It has been reported that KP and SR polypeptides, produced from non-autonomous incomplete KP and SR elements, respectively, and found on the paternally inherited chromosomes, play an important role in regulating P transposition [36, 41]. The positional effects also are involved in regulating P inducibility [42, 43]; however, it is unknown whether P-element piRNAs produced from the paternally inherited chromosomes (zygotic piRNAs) play a role in the regulation of P transposition in the progeny. In particular, it is largely unclear how zygotic piRNAs are produced in Q and M′ hybrids, and whether they influence the P-M phenotypes. Furthermore, although the abilities of the F2 hybrids to suppress P transposition are considerably varied [44, 45], it is unknown how a male genome contributes to the immunity of the produced granddaughters.
In the present study, we used four fly lines from wild-sampled Q, M′, and P strains as paternal lines, and then analyzed the following points to elucidate the paternal effects on the P-M phenotype: (1) the effects of the paternally inherited genome on the cytotype of F1 oocytes, (2) the fraction of each P-element type (e.g., FP, KP, and non-KP) present in the respective genomes, (3) the expression levels of P and KP elements, (4) the genomic positions of their insertions and the transcriptional activity of these insertion sites, (5) the number of P elements embedded in each piRNA cluster, and (6) the amount of piRNA production in whole embryos and ovaries of the F1 progeny, obtained by crossing with an M-strain female. As a result, we revealed that the paternally inherited Q and M′ genomes can serve as sources of zygotic piRNAs in the progeny, even at young ages; the amounts vary depending on the P elements embedded in the piRNA clusters. These zygotic piRNAs acted to reduce the amount of P-element mRNA. Furthermore, these piRNAs affected the P-M phenotypes of the F2 progenies. Thus, upon paternal inheritance, the Q and M′ genomes can co-transmit these P-element piRNA–generating immunity loci with complete P elements. In addition, high ratios of KP element transcription in the Q and M′ genomes likely are associated with the repressive transcriptional states of genomic regions surrounding P elements and appear to play a regulatory role. Moreover, the Q-strain males conferred immunity against P-element transposition to their granddaughters, which not only underscores the important role of piRNA cluster-inserted P elements in the regulation of P-element transposition, but also offers a genetic basis for the prevalence of Q-type flies in natural populations.
Discussion
Although naturally living flies generally carry P elements in their genomes, males of the Q and M′ strains in this study demonstrated a higher capacity to suppress the mobilization of introduced P elements than the P strain when hybridization occurred with M-strain females. Here, we show that such low P inducibility in the three lines of the Q (two lines) and M′ strains was associated with repressive factors derived from the paternal genomes. In particular, we found that the low P inducibility in two lines of the Q-strain was strongly associated with a higher level of zygotic piRNAs in young F1 ovaries that contributed to the regulation of P-element expression. Interestingly, we found that the level of zygotic piRNAs depended on the P-element insertion sites in paternal genomes, and that these piRNAs conferred immunity against P transposition in the next generation (F2 hybrids). On the other hand, the low P inducibility in one M′-strain line was associated with a higher expression of KP elements in F1 ovaries due to a higher copy number of KP elements in the paternally inherited genome, where some of KP elements are likely inserted into the actively transcribed regions, in addition to the silencing of FP elements by harboring them in the transcriptionally inert sites, as previously shown [43]. However, KP mRNA levels in the mother's ovaries did not efficiently protect the daughter's ovaries from P-induced dysgenesis. Srivastav and Kelleher [53] showed that P inducibility weakly correlated with the number of P-element copies in the genome although the relationship between P inducibility and P-element insertion sites remains to be explored. In this study, we revealed that, in addition to thesimple copy number, transcriptional activity, and piRNA production ability in the regions surrounding P-element copies are important factors.
Q-KY101 was characterized by low
P
-element expression, and the highest expression of zygotic
P
-element piRNAs in young F1 ovaries; these qualities are associated with high numbers of
P
-element copies harbored in piRNA clusters. In particular, the two
P
-element copies harbored in the 38C piRNA cluster highly active in the germline cells likely account for the highest levels of sense and antisense piRNAs. The offspring of this strain had a very low GD score in F2 ovaries. Assuming that these piRNA-producing
P
-element copies segregate randomly, the F2 phenotype could not be explained solely by the genotype. This suggests that the piRNAs produced in F1 oocytes were deposited to repress the
P
-element expression in F2 progeny (Fig.
7
). These results argue that GD of F2 progeny was suppressed by the genomes of their grandfathers carrying
P
elements in their dual-strand (germ-specific) piRNA clusters.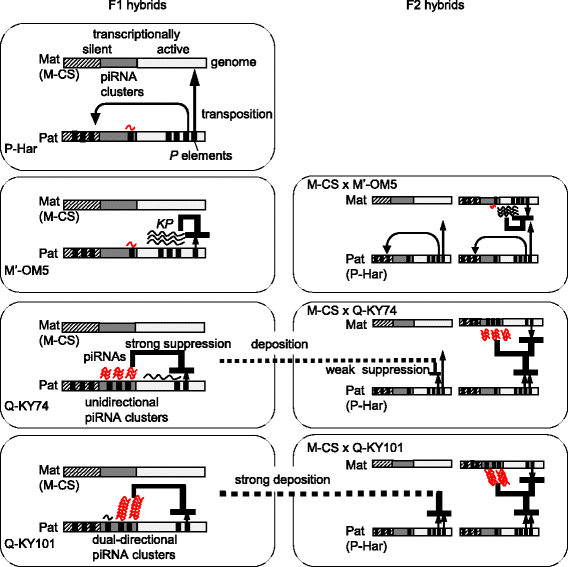 Q-KY74 also is characterized by low P-element expression, and high expression of zygotic P-element piRNAs in young F1 ovaries, which reflects high P element copy numbers harbored in piRNA clusters. While this strain also had a higher number of antisense-oriented P-element copies inserted into unistrand piRNA clusters, which are dominant in somatic cells, the Q-KY74 hybrids expressed both-strand zygotic piRNAs in young ovaries. It is possible that, in the young F1 ovaries of Q-KY74 hybrids, many zygotic antisense piRNAs produced from unistrand (soma-specific) clusters induce the production of sense piRNAs by cleaving P-element mRNAs. Interestingly, the Q-KY74 strain showed a relatively low (38%) GD score in F2 hybrids. Like Q-KY101, this may be due to piRNA deposition from F1 oocytes (Fig. 7); however, it has been shown that unidirectional piRNA clusters are not active in germ line cells [54]. Previous reports have shown that the piRNAs produced in germline and somatic cells affect each other [55, 56]. Moreover, Malone et al. [4] demonstrated that the low production of antisense piRNAs correlated with the weak deposition of maternal suppressors in F1 progenies, while high both-strand piRNA production correlated with strong deposition of maternal suppressors in F1 progenies. Therefore, there is a possibility that piRNA production in F1 oocytes can be reinforced partially by piRNAs from the unidirectional clusters in ovarian somatic cells, and these oocyte piRNAs are deposited, to some degree, into F2 hybrids (Fig. 7). This means that the difference in the GD scores of F2 hybrids from the Q-KY74 strain and the Q-KY101 strain may stem from a difference in the abundance of the piRNA load in F1 oocytes. Although this presents the possibility of a non-Mendelian inheritance, the moderate GD score of the Q-KY74 strain is explained potentially by Mendelian inheritance as well. Further investigation on the correlation between dysgenic phenotype, piRNA levels, and P-element loci of individual F2 hybrids will address this issue.
M′-OM5 hybrids are characterized by low levels of zygotic piRNAs and the active transcription of paternally inherited P elements and KP elements. Thus, the low levels of piRNAs are not sufficient to decrease the levels of P-element mRNA. This is consistent with our previous study on maternal strain effects, where M′-strain females allowed only low levels of piRNAs in F1 hybrids, resulting in P susceptibility [38]. However, even with paternally inherited P elements considered, the F1 hybrids still presented a low GD score. The genome carried many KP elements, some of which resided in transcriptionally active regions, allowing higher KP-element expression; therefore, the low P inducibility is most likely ascribed to the co-inherited KP elements (Fig. 7). However, there is a caveat. In a previous study, all FP elements were likely imbedded in transcriptionally silent genomic regions in the M′-OM5 strain, showing low P inducibility [43]. Therefore, we propose that, if an active P-element is present in the paternally inherited genome, an active KP element(s) is required to be co-inherited to suppress the P-element activity. Even in such a case, the KP elements in the F1 genome would be diluted in F2 hybrids; sufficient amounts of KP mRNA are not produced in F2, resulting in GD.
We demonstrated that, in 2- to 3-day-old hybrid ovaries of P-Har, high P inducibility was associated with low levels of zygotic P-element piRNAs, which is consistent with a previous report by Khurana et al. [27]. Their low piRNA expression is likely because the P-Har genome carries low copy numbers of P-elements in piRNA clusters. High percentages of GD in F2 hybrids were affected by this low production of P-element piRNAs in F1. It should be noted that the GD score of the P-Har F2 hybrids was 83%, and not 100%, meaning that some progeny had the ability to counteract the P transposition. This suggests an involvement of suppressors other than piRNAs, which should be elucidated by further studies.
Conclusions
Using the P-element as a model, our results revealed the importance of zygotically produced piRNAs from the paternal genome to suppress TE activity in D. melanogaster progeny. In addition to the well-characterized effects of maternally deposited piRNAs, our results also evoke an interesting possibility that individual TE locations and their insertional polymorphism in natural populations direct the various expressions of piRNAs, leading to variability in the immunizing capacity of their granddaughters against TEs. In nematodes, studies have shown that piRNAs are inherited over many generations [57]. To explore the host-TE battle in natural populations, interesting questions to be addressed include: (1) whether and to what extent the piRNA-producing ability is inherited across generations, (2) whether the transcriptional states of individual TEs are affected by other copies, and if so, (3) whether the altered transcriptional state is inherited, like paramutation [58], as paramutation often involves a class of small RNAs.
Abbreviations
cross A:

CS females x tested males
cross A*:

tested females x Har males
M-CS:

Canton S
GD:

Gonadal dysgenesis
P-Har:

Harwich
P inducibility:

the ability to induce transposition of P elements in the germline cells of progeny
M, P, M′, or Q hybrids:

the F1 progeny between males of each strain and females of CS
P susceptibility:

the capacity to allow transposition of P elements in the germline cells of progeny
piRNAs:

piwi-interacting small RNAs
qRT-PCR:

quantitative PCR
RPM:

Reads per million miRNA reads
TEs:

Transposable elements
Declarations
Acknowledgments
We thank Minoru Horie, Kanako Yasuda, Yutaka Okumoto, Akihiro Sekine, Takeru Makiyama, Norishige Yamada and Yasuko Kato for technical assistance. We also acknowledge Masamitsu Yamaguchi and Hideki Yoshida for helpful discussions.
Funding
This research was supported by Grant-in-Aid for Scientific research (C) 16 K08098, JSPS to M. I.
Availability of data and materials
Fly stocks will be provided to academic researchers upon request.
Authors' contributions
KTW designed the study; KTW, SO and MI generated experimental data; KTW, KI, and SO analyzed data; KTW, KI and MI wrote and edited the manuscript; All authors read and approved the final manuscript.
Ethics approval and consent to participate
Not applicable
Consent for publication
Not applicable.
Competing interests
The authors declare that they have no competing interests.
Publisher's Note
Springer Nature remains neutral with regard to jurisdictional claims in published maps and institutional affiliations.
Open AccessThis article is distributed under the terms of the Creative Commons Attribution 4.0 International License (http://creativecommons.org/licenses/by/4.0/), which permits unrestricted use, distribution, and reproduction in any medium, provided you give appropriate credit to the original author(s) and the source, provide a link to the Creative Commons license, and indicate if changes were made. The Creative Commons Public Domain Dedication waiver (http://creativecommons.org/publicdomain/zero/1.0/) applies to the data made available in this article, unless otherwise stated.
Authors' Affiliations
(1)
Department of Applied Biology, Kyoto Institute of Technology, Kyoto, Japan
(2)
Laboratory of Genome and Epigenome Dynamics, Department of Applied Molecular Biosciences, Graduate School of Bioagricultural Sciences, Nagoya University, Nagoya, Japan
(3)
Center for Epidemiologic Research in Asia, Shiga Univesity of Medical Science, Otsu, Japan
(4)
Center for Advanced Insect Research Promotion (CAIRP), Kyoto Institute of Technology, Kyoto, Japan