Protein-DNA interactions define the mechanistic aspects of circle formation and insertion reactions in IS2 transposition
Received: 22 September 2011
Accepted: 26 January 2012
Published: 26 January 2012
Abstract
Background
Transposition in IS3, IS30, IS21 and IS256 insertion sequence (IS) families utilizes an unconventional two-step pathway. A figure-of-eight intermediate in Step I, from asymmetric single-strand cleavage and joining reactions, is converted into a double-stranded minicircle whose junction (the abutted left and right ends) is the substrate for symmetrical transesterification attacks on target DNA in Step II, suggesting intrinsically different synaptic complexes (SC) for each step. Transposases of these ISs bind poorly to cognate DNA and comparative biophysical analyses of SC I and SC II have proven elusive. We have prepared a native, soluble, active, GFP-tagged fusion derivative of the IS2 transposase that creates fully formed complexes with single-end and minicircle junction (MCJ) substrates and used these successfully in hydroxyl radical footprinting experiments.
Results
In IS2, Step I reactions are physically and chemically asymmetric; the left imperfect, inverted repeat (IRL), the exclusive recipient end, lacks donor function. In SC I, different protection patterns of the cleavage domains (CDs) of the right imperfect inverted repeat (IRR; extensive in cis) and IRL (selective in trans) at the single active cognate IRR catalytic center (CC) are related to their donor and recipient functions. In SC II, extensive binding of the IRL CD in trans and of the abutted IRR CD in cis at this CC represents the first phase of the complex. An MCJ substrate precleaved at the 3' end of IRR revealed a temporary transition state with the IRL CD disengaged from the protein. We propose that in SC II, sequential 3' cleavages at the bound abutted CDs trigger a conformational change, allowing the IRL CD to complex to its cognate CC, producing the second phase. Corroborating data from enhanced residues and curvature propensity plots suggest that CD to CD interactions in SC I and SC II require IRL to assume a bent structure, to facilitate binding in trans.
Conclusions
Different transpososomes are assembled in each step of the IS2 transposition pathway. Recipient versus donor end functions of the IRL CD in SC I and SC II and the conformational change in SC II that produces the phase needed for symmetrical IRL and IRR donor attacks on target DNA highlight the differences.
Keywords
Curvature propensity plot dataextensive sequence-specific bindingfigure-of-eight transposition intermediatehydroxyl radical footprintingminicircle junctionselective bindingsynaptic complextranspososome
Background
IS
2
, a 1.3 kb transposable element, is a member of the large and widespread IS
3
family of insertion sequences (IS) ([
1
,
2
] see also ISfinder:
http://www-is.biotoul.fr/is.html
). Transposition mechanisms in the IS
3
family can be described as a two-step copy-and-paste process [
3
], in contrast to both classical cut-and-paste and replicative paradigms [
4
–
6
]. Although transposases of two IS
3
family members, IS
911
[
7
–
9
] and IS
2
[
10
,
11
] were originally shown to facilitate transposition by catalyzing the two distinct reactions whose steps are shown in Figure
1A
, there is strong evidence for the existence of this pathway in other IS
3
family members such as IS
3
[
12
,
13
] and IS
150
[
14
] as well as for its more widespread use in the IS
30
[
15
,
16
], IS
21
[
17
] and IS
256
[
18
] families of insertion sequences. In general in these families, Step I involves a cleavage and joining reaction between the ends, one of which (the optional donor) is cleaved and participates in an asymmetric, intrastrand, strand-transfer reaction to a phosphodiester bond in host DNA near the other end (the recipient). The product is a branched structure, the figure-of-eight (F-8) transposition intermediate [
7
,
11
,
16
] in which two abutted single-stranded ends are separated by an interstitial spacer of one or more bases. The F-8 is then converted by host cell replication mechanisms [
3
] to a covalently closed double-stranded transposition intermediate, the minicircle, (Figure
1A
) whose abutted ends, separated by the spacer, comprise a reactive junction, the minicircle junction (MCJ). Minicircle insertion into the target occurs in Step II (Figure
1A
) and requires that both ends function as donors [
10
,
19
]. Here, the reactive junction is the substrate for strand transfer reactions: it is cleaved at the abutted termini of the ends, creating 3'OH groups which undergo symmetrical transesterification attacks on target DNA. This results in the insertion of the element flanked by its direct repeats; see Rousseau
et al
., [
2
] for a detailed review.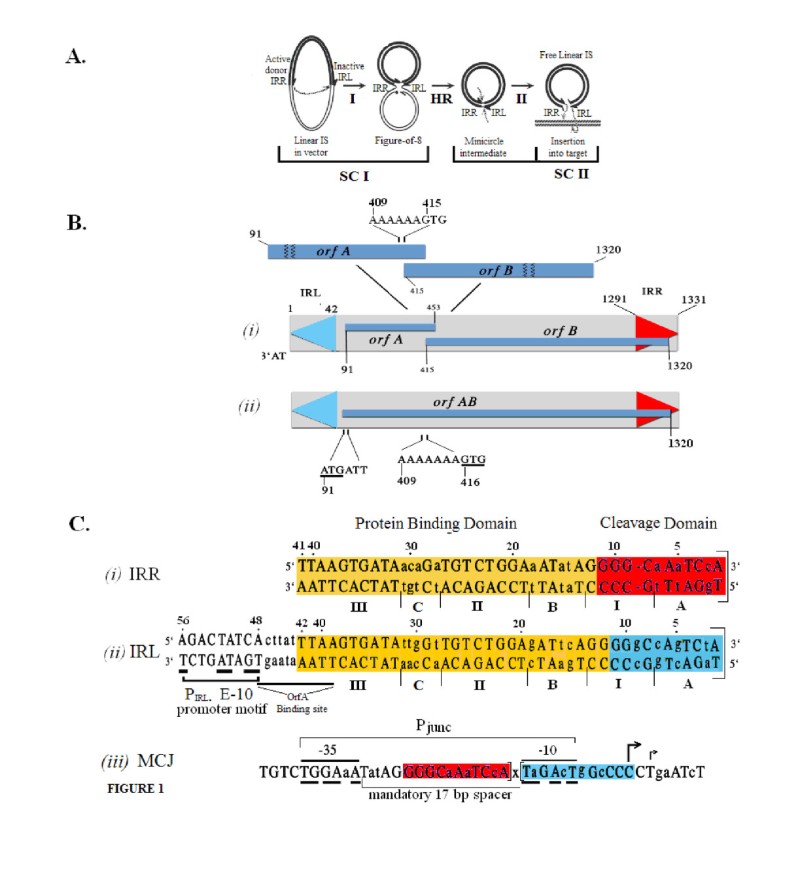 The ends of IS2 are 41 bp and 42 bp right and left imperfect inverted repeats (IRR and IRL; Figure 1B) respectively; between these ends the IS encodes two overlapping reading frames, OrfA and OrfB (Figure 1B, i). OrfA is a 14 kDa protein which has been reported in IS2[20] to bind to a sequence just upstream of the weak indigenous extended-10 promoter (PIRL-[10]) located just inside the left end (IRL) of the element (Figure 1C, ii). This weak promoter regulates the expression of IS2 proteins in Step I. The function of OrfB is unknown but a fusion protein OrfAB, the functional transposase (TPase), is generated by programmed -1 translational frameshifting [13, 21, 22] at a sequence of slippery codons (the A6G frameshift window in IS2), located near the 3' end of orfA (Figure 1B, i). Mutation of this window to A7G in IS2 (Figure 1B, ii) produces OrfAB as the predominant species [11, 23]. When the IS2 ends are aligned (Figure 1C, i, ii), they show four non-conserved elements (I, A, B and C) and two conserved elements (II and III) which play critical roles in the transposition mechanism. Elements A and I comprise a cleavage domain (CD) and B, II, C and III, a protein binding domain (PBD). The differences in the sequences of the two ends are related to their donor and recipient end functions (see below) in Step I [24].
Several features distinguish circle formation and its consequences in IS2 from those in other IS3 family members. The reaction is physically as well as chemically asymmetric in that the right end functions uniquely as the donor or transferred end and the left end serves exclusively as the functional recipient end. This asymmetry is not unique to IS2, having also been demonstrated in copies of IS256 in Tn4001[18]. Recipient end function in IS2 is partially defined by the accuracy with which the joining reaction occurs. Abutted ends at the MCJ (Figure 1C, iii) are separated by a one or two base pair spacer with a ratio of 90% to 10% [11, 24] but functional minicircles are limited to those with a single base pair spacer. This is so because creation of the MCJ in IS2 assembles a promoter, Pjunc, [25] which has an absolute requirement for a 17-nucleotide promoter spacer (Figure 1C, i, ii) that is conferred by the one base pair MCJ spacer. This more powerful Pjunc is essential for and drives transposase reactions in Step II [10]. MCJ promoters with spacers of two or more base pairs are completely non-functional.
We concluded from earlier studies that differences in length and sequence of the two ends of IS2 in Step I are responsible for the restriction of donor and recipient end functions to IRR and IRL respectively [24]. Differences in length are related to the correct positioning of the shorter donor end (IRR) in the catalytic pocket. However, random mutation in the A element of the AIRR sequence in an IRR CD eliminated minicircle production, while similar changes in AIRL in an IRL CD had no effect on the efficiency of minicircle formation; this result implied that extensive sequence-specific protein affinity for the A element was important in defining donor function but not recipient end function. For the B element, mutations in the BIRR sequence also eliminated minicircle formation, implicating sequence-specific protein affinity. Additional domain swapping experiments involved the substitution of a 6 bp BIRL sequence in an IRR derivative, which did not change the length of IRR (Figure 1C, i and 1C, ii). This reduced but did not eliminate IRR donor activity, implying that the protein had a weaker affinity for BIRL. Further evidence for some protein interaction with the BIRL sequence is that in IRL, its mutation (a triplet of point mutations) all but eliminated minicircle formation. These results suggested that the degree of sequence-specific interaction of the protein for sequences in or near the CDs may also be related to donor and recipient end functions; in an IRR end, extensive interaction of the protein with AIRR and BIRR would be required for the donor function; however, in IRL the lack of extensive interaction of the protein with AIRL and a weak affinity for BIRL may contribute to recipient end identity.
Additional data from experiments with AIRL threw light on this supposition. First, in an IS2 mutant with two IRR ends, the increase in length of one IRR by a single base pair alone was necessary and sufficient to convert it to a recipient end with no donor function. However, the addition of AIRL was absolutely essential for the accuracy of recipient end function. Furthermore, alteration of any one of three non-conserved nucleotides in positions 2, 5 and 7 in AIRL (Figure 1C, ii) that made the sequence more like that of the IRR CD reduced the accuracy of the joining reaction in Step I by increasing MCJ spacer size. We posited then, that the non-conserved base pairs in AIRL, through some interaction with the protein, were responsible for the accuracy of recipient end function by correctly positioning the IRL CD in trans in the vicinity of the IRR CD to generate a single interstitial base pair between the abutted ends. (See the Results and discussion section for a complete analysis of all factors which define recipient end function.) It is interesting that mutation of position 2 of IRL, which converted the TA3' terminal dinucleotide to the CA3' consensus in the IS3 family, did not confer functional donor activity on IRL [24], due, among other factors, to its incorrect positioning in the cognate catalytic center (CC). Finally, although the features described above for IRL define its accuracy as a recipient end, the sequence of the flanking host DNA can also play a role in determining spacer size [24], implying that the host DNA sequence adjacent to IRL is also involved in some kind of interaction with the TPase.
Mechanistically, in elements with F-8 transposition intermediates, the right and left ends of the linear element (attached to flanking host sequences) are organized with the transposase in Step I into a nucleoprotein complex known as the transpososome or Synaptic Complex (SC) I [
26
,
27
]. We have proposed [
24
] that generally for IS
3
family members, each monomer of this complex, viewed as a dimer, would possess a binding site (BS) occupied by the PBD of one end and a cognate CC at which the CD would be bound
in cis
, that is, with PBD and CD bound on the same monomer (Figure
2A
). By a stochastic process either one of these CCs would be activated to generate the donor end. This optional donor is cleaved and the exposed 3'OH group attacks a phosphodiester bond in the host DNA adjacent to the CD of the opposite end at a position corresponding to the distance between the two CCs. This forms the interstitial or MCJ spacer (equivalent to the size of the direct repeat) between the abutted single-stranded ends. In SC II transpososomes, the CDs of the MCJ separated by the short spacer would be bound
in cis
at the two active CCs (Figure
2B
). There, sequential or concerted cleavages would generate 3'OH groups, whose symmetrical attacks on the target DNA appropriately positioned at the CCs would effect insertion and the formation of direct repeats. This general scenario would explain the similarity between the sizes of the MCJ spacer and the direct repeats.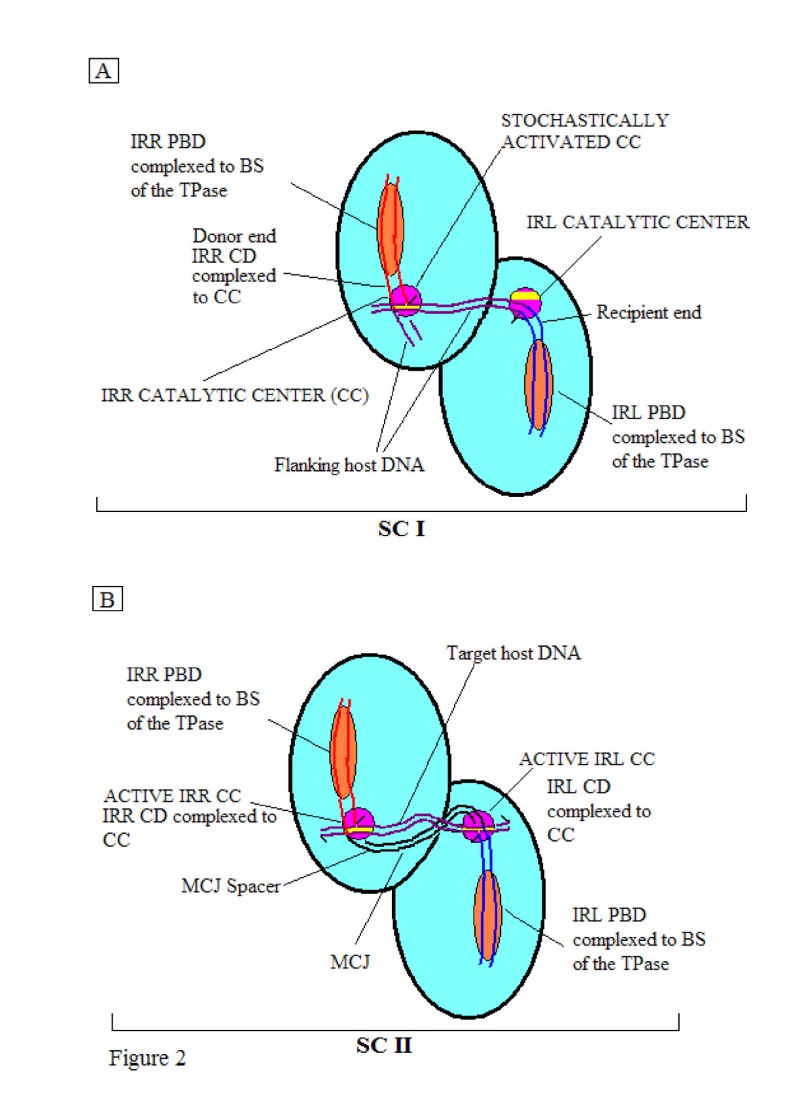 For IS2, however, we proposed that in SC I, given the donor-inactive IRL, the 5 bp distance between the two CCs and the one base pair MCJ spacer size, the IRL CD would have to be positioned near the single active CC at which the IRR CD was bound to facilitate the joining reaction. For SC II, we proposed that the abutted CDs separated by a single base pair would also be complexed at a single active cognate IRR CC (the first transition state) and that a series of cleavage-triggered conformational changes would result in each CD cis-bound at its cognate CC (as shown in Figure 2B). It is important to note, however, that other factors may play an important part in this process in SC II, such as the role of the IS911 OrfA, which has been shown in in vitro assays to stimulate insertion principally into DNA targets devoid of IS911 end sequences [28]. Nevertheless, in these ISs, the assembly of intrinsically different SC I and SC II transpososomes appears to be necessary [24, 26]. This conclusion is applicable to circle forming elements in the IS3 family which use the two-step pathway, for example, IS3[12, 13] IS150[14] and IS911[7, 8], where MCJ spacer size is similar (2 bp to 4 bp) to that of the direct repeat (see Figure 2). It is particularly true for the SC II in IS2[24] and in IS256 in Tn4001[18], where physically asymmetric Step I reactions have been described and where the acquisition of donor function by the recipient end, lacking in Step I, is essential. Similar thinking would apply to IS21[29] and IS1665[30] where, as is the case in IS256, the interstitial MCJ distance is less than the size of the direct repeat. In this study we have tested these hypotheses with hydroxyl radical footprinting analyses of Step I complexes of IS2 and by comparative footprinting analyses of covalently joined and pre-cleaved (or nicked) MCJ substrates in SC II.
The 46 kDa IS
2
transposase is expressed in active soluble form with great difficulty and solubilized, renatured, highly purified preparations bind poorly to oligonucleotides containing cognate IRR and IRL sequences. A TPase derivative, C-terminal-tagged with GFP, produced a full length soluble 74 kDa OrfAB-GFP fusion protein under native conditions. When purified to near homogeneity, this fusion protein also bound poorly to similar oligonucleotides even though it is fully active
in vivo
[
31
]. These results of poor or low binding efficiency of the full length transposase are similar to those for IS
911
[
26
,
27
,
32
], IS
30
[
33
,
34
] and IS
256
[
35
]. As a consequence, a comparative biophysical analysis of protein-DNA interactions in fully formed Step I and Step II complexes with protein bound to both binding and cleavage domains of the ends has not been reported for this group of circle-forming insertion sequences. However, soluble, active preparations of partially purified IS
2
OrfAB-GFP produced complexes in which both the DNA BD or BS and the CC of the protein bound very efficiently to cognate IRR sequences in linear oligonucleotides [
31
]. We have now successfully used complexes created with single-end and MCJ substrates (Figure
3
) to generate hydroxyl radical footprinting data.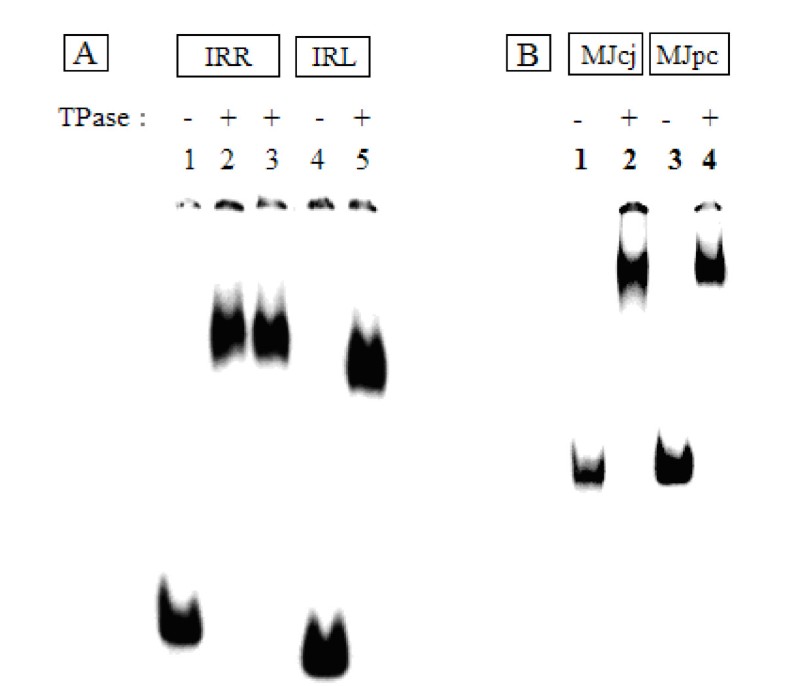 We show here that the footprinting patterns of both IRR and IRL single ends of IS2 reveal bipartite structures. They differ in that the IRR CD is strongly and extensively protected while the IRL CD is only selectively or intermittently bound by the protein. We propose a model in which non-specific and/or selective binding to the adjacent host sequence and selective binding to the IRL CD act additively in SC I to promote binding of the IRL CD in trans at the active cognate IRR CC. In SC II, extensive protection of both the IRL and the abutted IRR CDs, separated by a single base pair, suggests binding at a single active cognate IRR CC with the IRL CD bound in trans, creating the first phase of the SC. Our data suggest that sequential cleavages (associated with small conformational changes) at the 3' termini of IRR and IRL at this active CC trigger a conformational change that leads to transition to a second phase; that is, each CD complexed in cis to its own active cognate CC. In addition, the location of enhanced residues indicative of distortion or bending of DNA, corroborated by curvature propensity plot data, have helped gain insight into the paths of the IRL DNA which facilitate binding in trans within the architecture of SC I and SC II transpososomes.
Methods
Bacterial strains and media
Escherichia coli strain JM105 was used for cloning and for most procedures involving plasmid DNA preparation. DNA transformation was carried out into supercompetent XL1 Blue cells (Stratagene Inc., Santa Clara, CA, USA) for reactions requiring cloning and expression of pLL2522, the plasmid with the fused orfAB and GFPuv genes.
Cultures were routinely grown in lysogeny broth media at 37°C, supplemented where necessary with carbenicillin (Cb, 50 μg/mL) or chloramphenicol (Cm, 20 μg/mL). For the overexpression of the fused orfAB::GFP genes in plasmid pLL2522, cultures were grown at 28°C in a 2× yeast extract and tryptone (2 × YT) medium supplemented with Cm, Cb and arabinose (6 mg/mL).
Plasmid constructs
pLL2522, which contained the fused orfAB and GFPuv genes, has been described in detail previously [31].
Preparation of the OrfAB-GFP fusion protein under native conditions
Plasmid pLL2522 was transformed into BL21(DE3)pLysS cells (Stratagene Inc.). Single colonies were inoculated into 40.0 mL of 2 × YT medium supplemented with Cm, Cb and arabinose and inoculated in baffled flasks overnight at 28°C. Harvested pellets were checked for bright fluorescence, washed with 3.0 mL Native Wash Buffer (Qiagen, Valencia, CA, USA) and frozen at -70°C for 15 min. Three milliliters of B-PER Protein Extraction Reagent (Thermo Scientific, Pierce Protein Research Products, Rockford, IL, USA), supplemented with 4.0 μL of Benzonase (Novagen-EMD4Biosciences, La Jolla, CA, USA), per 40 mL of overexpressed culture and 3.0 mL Protease Arrest (Calbiochem/EMD La Jolla, CA, USA) per milliliter of lysate was added to the frozen pellet, which was allowed to thaw on ice on a horizontal rotary shaker for 60 min. The lysate was nutated at 4°C for 1 h and subjected to a hard spin at 10,000 ×g for 45 min at 4°C. It was then purified through Ni-NTA His-tag technology. 6 × His-tag purification of the protein was achieved by gravity flow affinity chromatography using Ni-NTA agarose (Qiagen) under native conditions essentially following the manufacturer's instructions. The crude lysate was loaded on to a 1.0 mL bed of the nickel-charged resin in a 5.0 mL column for chromatographic separation followed with UV light. The protein bound as a tight brightly fluorescing band at the top of the column and remained bound through washings with 10 mM to 60 mM imidazole, when a slight dissociation of the band was observed. To circumvent continued dissociation, the band was eluted with 250 mM imidazole and its progress through the column followed. Peak fractions (fluorometrically determined) were subjected to diagnostic 12% PAGE using acrylamide and bis-acrylamide (Ac:Bis; 30%:8%, respectively) polyacrylamide gels [31]. Fractions showing both the 74-kDa OrfAB::GFP and the 17-kDa OrfA proteins were pooled (approximately 700 μL), concentrated to about 75 μL in a YM-10 Microcon Centrifugal Filter Device (Millipore, Billerica, MA, USA), dialyzed overnight in Slide-A-Lyzer cassettes (Thermo Scientific, Pierce Protein Research Products) and stored in 50% glycerol at -20°C. The concentration of the fused OrfAB-GFP protein was measured with spectrophotometry at 397 nm and that of the control GFP at 280 nm and 397 nm. Comparative levels of fluorescence of GFP and the fusion proteins were measured with fluorometry and used to confirm the concentration data.
Oligonucleotides used in gel retardation and DNA footprinting experiments
The right single end (IRR) was represented by an 87-bp substrate R87. The IRR sequence is shown between the brackets. Top strands were labeled at the 5' end and bottom strands at the 3' end. The top strand (primer A) sequence was as follows: 5'GCTGACTTGACGGGACGGGGATCC[TTAAGTGATAACAGATGTCTGGAAATATAGGGGCAAATCCA]ATCGACCTGCAGGCATATAAGC3'; the bottom strand (primer B) sequence was as follows: 5'GCTTATATGCCTGCAGGTCGAT[TGGATTTGCCCCTATATTTCCAGACATCTGTTATCACTTAA]GGATCCCCGTCCCGTCAAGTCAGC3'.
The left single end (IRL) was represented by the 78-bp substrate L79. The IRL sequence is shown between the brackets. The top strand sequence (primer A) was as follows: 5'ACGCGGAGTGAATTCGAGCTC[TAGACTGGCCCCCTGAATCTCCAGACAACCAATATCACTTAA]ATAAGTGATAGTCTTA3'; bottom strand (primer B) sequence was as follows: 5'TAAGACTATCACTTAT[TTAAGTGATATTGGTTGTCTGAAGATTCAGGGGGCCAGTCTA]GAGCTCGAATTCCACTCCGCGT3'.
The covalently closed MCJ was represented by the 114-bp substrate, MJcj. The abutted IRR (bold) and IRL sequences, shown in the brackets, are separated by a single base pair guanine/cytosine spacer. The top strand sequence (primer A) was as follows: 5'GGTACCCGGCCATGG[ttaagtgataacagatgtctgggaaatataggggcaaatcca]C[TAGACTGGCCCCCTGAATCTCCAGACAACCAATATCACTTAA]ATAAGTTATAGTCTT3'; bottom strand (primer B) sequence was as follows: 5'AAGACTATAACTTAT[TTAAGTGATATTGGTTGTCTGGAGATTCAGGGGGCCAGTCTA]G[TGGATTTGCCCCTATATTTCCAGACATCTGTTATCACTTAA]GGATCCCCGGGTACC3'.
The precleaved (nicked) MCJ was represented by the 114-bp MJpc substrate. Two oligonucleotides were needed to create the top strand. The first, a 56-mer oligonucleotide contained the IRR sequence (bold font) terminated with an A-3'OH at the junction and was labeled at its 5' end. The sequence for the top strand (primer A1) was as follows: 5'GGTACCCGGGGATCC[TTAAGTGATAACAGATGTCTGGAAATATAGGGGCAAATCCA]3'.
The second primer, a 58-mer oligonucleotide, terminated at its 5' end with a cytosine representing the single spacer nucleotide. It was labeled at its 5' end. Its sequence (Primer A2) was: 5'C[TAGACTGGCCCCCTGAATCTCCAGACAACCAATATCACTTAA]ATAAGTTATAGTCTT3'. The bottom strand was identical to that described for the MJcj substrate.
5'- and 3'- end labeling and annealing of the oligonucleotides
5'-end labeling of the primers: A 20-μL labeling reaction contained 30 units of T4 polynucleotide kinase (New England Biolabs, Ipswich, MA, USA), 2.0 μL of 10X T4 polynucleotide kinase reaction buffer, 20 μM of the primer, 50 μCi of the gamma 32P-labeled adenosine triphosphate (γ32PATP) (6000 Ci/mmole). The reaction was incubated at 37°C for 30 min and heat killed at 90°C for 5 min.
3'-end labeling of the primers: The 50-μL reaction contained 20 units of terminal transferase in 1X reaction buffer (USB Corp, Cleveland, OH, USA), 20 μM of the oligonucleotide and 50 μCi of α32PddATP. The reaction was incubated at 37°C for 1 h, terminated with 10 μL 2 M ethylenediaminetetraacetic acid (EDTA) and heat killed at 70°C for 10 min.
A 100-μL annealing reaction contained 10 ρmol and 13 ρmol of the labeled and unlabeled strands respectively, 20 mM tris(hydroxymethyl)aminomethane-chloride (Tris-Cl) pH 8.0, and 100 mM sodium chloride. The reaction was placed in a boiling water bath, cooled to 65°C, held there for 15 min and allowed to cool to room temperature. Annealed oligonucleotides were stored at -20°C.
Protein-DNA complex formation and EMSA
Protein-DNA binding reactions were carried out in 20-μL reaction mixtures with 20 mM Tris-Cl, pH 8.0.Cl, 1 mM EDTA, 1.0 μg/mL calf thymus DNA, 2 nM of the radioactively labeled annealed primers and 80 nM of the partially purified preparation of the OrfAB-GFP fusion protein. Reactions were incubated for 30 min at room temperature and electrophoresed through 5% 19:1 Ac:Bis native polyacrylamide gels at 4°C for 1,000 Vhr.
In-gel cleavage assays of OrfAB complexed with IRR substrates
DNA substrates used in complex formation: An 87-bp IRR substrate (see description of oligonucleotides) and a 50-bp IRR substrate [31] were used in the preparation of protein-DNA complexes. Three types of complexes were formed: (a) with the 50-bp substrate alone, (b) with the 87-bp substrate alone and (c) with a mixture of the 50-bp and 87-bp substrates. Complexes were electrophoresed as described above.
In-gel excision of the complexes and activation of the TPnase: Complexes were excised and activation effected based partly on the protocol of Bhasin et al. [36]. Essentially the gel was wrapped and exposed to X-ray film for 30 min. It was then superimposed over the developed film and complexes excised based on the location of the images. Each excised gel slice was cut in half and placed into separate 2.0-mL eppendorf tubes. To one tube, 1 mL of an activation buffer (20 mM 4-(2-hydroxyethyl)-1-piperazineethanesulfonic acid, 100 mM K glutamate and 10 mM magnesium chloride or magnesium acetate) was added. To the second control tube, 1 mL of the same buffer lacking Mg++ was added. Gels were incubated at 37°C for 5 min and rinsed twice with 1.0 mL nuclease free water (Ambion/Life Technologies, Grand Island, NY, USA).
Elution of DNA from gel slices: The gels were crushed with a micro pestle in 1.0 mL of a 'crush and soak' buffer (10 mM Tris.Cl, 1% SDS and 10 mM EDTA) and nutated at 4°C overnight. The gel pieces were pelleted at 14 K rpm in a microcentrifuge at room temperature for 10 min then rinsed in 500 μL of the same buffer. The resulting 1.5 mL supernatant was then reduced to about 400 μl with three consecutive 14 K rpm spins in a YM-10 Microcon Centrifugal Filter Device (Millipore). Each sample was then subjected to seven buffer exchange (topped up with 400 mL Tris-EDTA pH 8.0) spins at 14 K rpm for 16 min at room temperature. Samples were dried down to a pellet in a Savant SpeedVac DNA concentrator (Savant Instruments, Inc., Holbrook, New York, USA) and resuspended in 2.5 μL nuclease-free water, 2.5 μL of gel loading buffer (GE Healthcare Biosciences, Piscataway, NJ, USA), placed in a boiling water bath for 5 min and stored at -20°C.
DNA sequencing reactions: These were carried out essentially as described previously [10, 11, 24].
Hydroxyl radical footprinting protocols
Two reactions, one for the footprinting experiment and the other for the free DNA control, were prepared for each substrate as described for the EMSA protocol but with two modifications. Hydroxyl radicals were generated by the Fenton reaction [70]. Reactions were carried out in 70-μL volumes and protein was added to the footprinting tube only, at a final concentration of 225.7 nM. The tubes were incubated at room temperature for 30 min and then subjected to OH radical cleavage. Final concentrations of 5 mM ferrous ammonium sulfate ((NH4)2 Fe(SO4)2.6H2O), 10 mM EDTA and 0.05% hydrogen peroxide were added to each tube to bring the final volume to 100 μL. These reactants were added as three drops to the side of the tube, then mixed and immediately combined with the sample. The reaction was incubated at room temperature for 2 min and stopped by adding an equal volume of stop buffer consisting of 4% glycerol, 0.6 mM sodium acetate (NaOAc)and 50 μg/mL tRNA. Thiourea was also added as a stop reagent to a final concentration of 11.4 mM.
Purification of the DNA was initiated by removing the protein by the addition of an equal volume of phenol-chloroform-isoamyl alcohol (25:24:1; Sigma-Aldrich, St. Louis, MO, USA), vortexing for 10 s and centrifuging at 15,000 ×g for 2 min. Aqueous layers were removed from each of two repetitions and the DNA was precipitated by adding first NaOAc and glycogen to final concentrations of 100 mM and 0.3 μg/mL, respectively, and then twice the reaction volume of 100% ethanol kept at -20°C. The reaction was stored at -70°C overnight and pellet recovery followed standard procedures [71]. The pellet was dissolved in 10 μL formamide-based loading buffer and stored at -20°C. G+A Maxam-Gilbert sequencing reactions followed the standard procedure [71]. The three reactions, footprinting, free DNA and Maxam-Gilbert, were run side by side in 8.0% polyacrylamide sequencing gels at 1400 v 40 W. The results were quantified on a Typhoon phosphorimager 9400 (GE Healthcare).
In silico prediction of intrinsic DNA curvature
Curvature propensity plots were obtained using the BEND algorithm [72] by submission of DNA sequences to the bend.it server (http://hydra.icgeb.trieste.it/dna/bend_it.html; [73]) using the DNAse I-based parameters of Brukner et al. [74]. This server calculates DNA curvature as a vector sum of dinucleotide geometries (roll, tilt and twist angles) and expresses it as degrees per helical turn (10.5° per helical turn = 1° per base pair). DNA sequences were submitted in raw format and the predicted curvature was collected through email in ASCII format. Three-dimensional representation of the curvature profiles was performed with the model.it server (http://hydra.icgeb.trieste.it/dna/model_it.html; [73]) and the output was displayed and visualized with MOLEGRO Molecular Viewer http://www.molegro.com/mmv-product.php. A literature search was performed to analyze the intrinsic curvature of IS2 target sites and a detailed list of several DNA sequences from genomic, phage and plasmid DNA encompassing different IS2 target sites was gathered. Each of these sequences was analyzed in 200 bp-sized windows by bend.it and model.it. The mean curvature of all IS2 target sites was also computed.
Abbreviations
Ac:

acrylamide
Bis:

bis-acrylamide
bp:

base pair
BD:

binding domain
BS:

binding site
cb:

carbenicillin
CC:

catalytic center
CD:

cleavage domain
cm:

chloramphenicol
EDTA:

ethylenediaminetetraacetic acid
EMSA:

electrophoretic mobility shift assay
F-8:

figure-of-eight
GFP:

green fluorescent protein
IRR/IRL:

right and left imperfect, inverted repeats
IS:

insertion sequence
kb:

kilobases
kDA:

kiloDaltons
MCJ:

minicircle junction
MJcj:

covalently joined minicircle junction substrate
MJpc:

precleaved minicircle junction substrate
NaOAc:

sodium acetate
Ni-NTA:

nickel-nitrilotriacetic acid
orf:

open reading frame
PBD:

protein binding domain
SC:

synaptic complex
TPase:

transposase
tris-Cl:

tris(hydroxymethyl)aminomethane-chloride
2 × YT:

2× yeast extract and tryptone.
Declarations
Acknowledgements
We thank NDF Grindley for useful discussions, T Seymour for help with Figure 1 and J Lopino for help with Figure 10. We especially thank T. Paglione and N. Khandaker for use of facilities in the York College Department of Earth and Physical sciences. This research was supported by US Public Health Service grant NIGMS/MBRS GMO8153, a York College FDSP award 990110 to LAL and by Fundação para a Ciência e a Tecnologia (PPTDC/EBB-BIO/113650/2009, BD/22320/2005) to PHO.
Authors' Affiliations
(1)
Department of Biology, York College of the City University of New York, Jamaica, USA
(2)
Program in Cellular, Molecular and Developmental Biology, Graduate Center, City University of New York, New York, USA
(3)
Johns Hopkins University, Applied Physics Laboratory, Laurel, USA
(4)
Accera Inc., Broomfield, USA
(5)
Ross Medical School, Roseau, Dominica
(6)
Department of Occupational Therapy, York College of the City University of New York, Jamaica, USA
(7)
Skirball Institute of Biomolecular Medicine, New York University School of Medicine, New York, USA
(8)
Department of Bioengineering, Instituto Superior Técnico, Portugal
(9)
IBB-Institute for Biotechnology and Bioengineering, Centre for Biological and Chemical Engineering, IST, Portugal
Copyright
© Lewis et al; licensee BioMed Central Ltd. 2012
This article is published under license to BioMed Central Ltd. This is an Open Access article distributed under the terms of the Creative Commons Attribution License (http://creativecommons.org/licenses/by/2.0), which permits unrestricted use, distribution, and reproduction in any medium, provided the original work is properly cited.