Extrachromosomal circles of satellite repeats and 5S ribosomal DNA in human cells
Received: 7 May 2009
Accepted: 8 March 2010
Published: 8 March 2010
Abstract
Background
Extrachomosomal circular DNA (eccDNA) is ubiquitous in eukaryotic organisms and was detected in every organism tested, including in humans. A two-dimensional gel electrophoresis facilitates the detection of eccDNA in preparations of genomic DNA. Using this technique we have previously demonstrated that most of eccDNA consists of exact multiples of chromosomal tandemly repeated DNA, including both coding genes and satellite DNA.
Results
Here we report the occurrence of eccDNA in every tested human cell line. It has heterogeneous mass ranging from less than 2 kb to over 20 kb. We describe eccDNA homologous to human alpha satellite and the Sst I mega satellite. Moreover, we show, for the first time, circular multimers of the human 5S ribosomal DNA (rDNA), similar to previous findings in Drosophila and plants. We further demonstrate structures that correspond to intermediates of rolling circle replication, which emerge from the circular multimers of 5S rDNA and Sst I satellite.
Conclusions
These findings, and previous reports, support the general notion that every chromosomal tandem repeat is prone to generate eccDNA in eukryoric organisms including humans. They suggest the possible involvement of eccDNA in the length variability observed in arrays of tandem repeats. The implications of eccDNA on genome biology may include mechanisms of centromere evolution, concerted evolution and homogenization of tandem repeats and genomic plasticity.
Keywords
Tandem RepeatTandem ArrayAlpha SatelliteCircular MoleculeRolling Circle Replication
Background
The genome of eukaryotes has been considered for a long time to be relatively stable. However, various phenomena have been described which exhibit the plasticity of the genome and occur during the normal lifespan of the organism. An intriguing manifestation of the plasticity of the eukaryotic genome is the occurrence of extrachromosomal circular DNA (eccDNA) - also termed spcDNA (small poly-dispersed circular DNA). While the population of extrachromosomal circles may include intermediates of mobile elements or viral genomes, here we refer to the circular molecules as eccDNA which are derived primarily from chromosomal repetitive sequences that do not appear to harbour an intrinsic 'jumping' or excision mechanism mediated by specific sequences.
eccDNA is ubiquitous in eukaryotic genomes and has been detected in every organism tested, including human tissues and cultured cells [1, 2]. eccDNA has been reported in various human cells and was characterized mainly by electron microscopy or cloning. The latter attempted to represent the entire population of genomic circles. Using these techniques, which were laborious and provided only limited data, eccDNA was found to occur in human cells in a wide range of sizes (from several hundred base pairs to several kilobase pairs) and to consist of various chromosomal sequences including repetitive and unique sequences [2–6].
To facilitate the direct detection and characterization of eccDNA within preparations of genomic DNA a two-dimensional gel (2D gel) electrophoresis was developed. This technique separates DNA molecules according to their size and structure. Thus, typical arcs are formed of molecules sharing similar structure but differing in mass (Figure
1a
) [
7
]. Following hybridization with specific probes, arcs typical of linear DNA, supercoiled circles and open circles (it could not be determined whether these were covalently closed relaxed circles or nicked circles), can be identified. The 2D gel allows one to assess the size distribution of eccDNA, its molecular organization and its sequence content. Using this techniques eccDNA was characterized in various organisms, including rodents [
7
,
8
],
Xenopus
[
9
–
11
],
Drosophila
[
12
] and plants [
13
–
15
]. Chromosomal tandem repeats were found to be over-represented in the population of eccDNA. These include non-coding satellite repeats and tandemly organized coding genes, such as ribosomal DNA. Circular multimers of the repeating elements were resolved by the 2D gels in all tested organisms whenever the length of the repeat was long enough to generate a pattern of discrete spots (Figure
2
; for a recent review see [
1
]). The formation of eccDNA was found to be independent of chromosomal DNA replication [
9
] but may be enhanced upon chemical stress by DNA damaging agents [
7
,
12
,
16
], and probably involves intrachromosomal homologous recombination and looping-out. Furthermore, rolling circle replication of eccDNA appears to occur in
Drosophila
irrespectively of the expression of the replicated genes [
17
].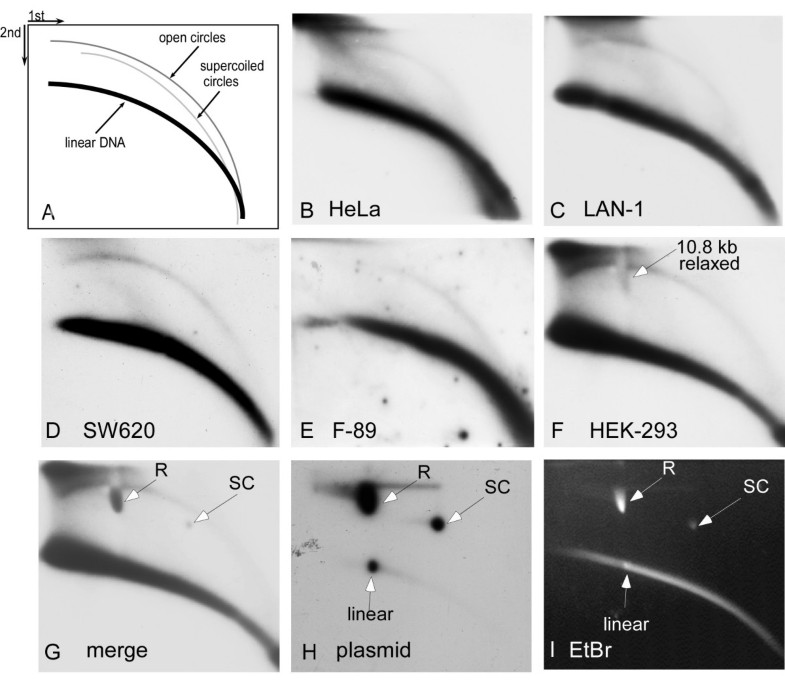 In human cells, a 2D gel analysis of the genomic fraction enriched for low-molecular-weight DNA (Hirt extract) revealed eccDNA homologous to the highly repetitive genomic fraction Cot-1[16]. This eccDNA was found in cancerous cells (HeLa [human cervical carcinoma epithelial cells] and colon carcinoma cells) and in Fanconi anaemia cells. Normal skin fibroblasts only exhibited detectable levels of Cot-1 eccDNA after treatment with the carcinogen N-Methyl-N'-Nitro-N-Nitrosoguanidine (MNNG)[16]. Another important type of eccDNA found in human cells (and in other organisms) using 2D gels is the t-loop circles which consist of telomeric repeats [18–20]. The formation, and the possible role, of this type of circular DNA in telomere dynamics has been extensively investigated [21] and is beyond the scope of this work.
Detailed characterization of human eccDNA was halted for some years due to technical difficulties that hampered its easy detection. Two main experimental developments have prompted us to resume the characterization of human eccDNA. The first is the recent improvement of the sensitivity and resolution of 2D gels by treatment of the DNA with double stranded exonuclease, which facilitated the detection of eccDNA in DNA samples where it is barely detectable [13–15]. The second is the emerging notion that chromosomal tandem repeats are the most prominent sequences composing eccDNA in any organism tested so far [1]. Therefore, an obvious question is whether tandem chromosomal repeats are present in human eccDNA.
In this work we show that eccDNA is easily detected in both cancerous and normal human cells. These eccDNA molecules contain sequences corresponding to satellite DNA and to 5S ribosomal DNA (rDNA). In addition, intermediates of rolling circle replication are detected for 5S rDNA. These findings have wide implications for the maintenance and evolution of chromosomal tandem repeats, including processes such as repeat diminution, expansion, homogenization and mobility of tandem genes.
Discussion
In this work we utilize 2D gel electrophoresis to identify eccDNA in various human cells using specific chromosomal repetitive sequences as probes. We demonstrate for the first time the presence of eccDNA homologous in the tandemly arranged 5S rDNA and the Sst I mega satellite, as well as eccDNA homologous to a general alpha satellite probe. eccDNA molecules are heterogeneous in mass, having a size range similar to that found for eccDNA in animal and plant systems. The sizes of eccDNA detected in this report are, in fact, dictated by the resolution limits of the 2D gels and it is conceivable that larger and smaller circular molecules also exist. Hence, we estimate the size of human eccDNA to range from less than 2 kb to over 20 kb.
This research did not aim to generate quantitative data on eccDNA in human cells, as assessments on the amount of eccDNA, based on studies with electron microscope, have been previously summarized [2]. These studies estimate that human cells contain from tens to several hundred circular molecules per cell, depending on the cell type and its physiological conditions (for example, cell cycle phase, growth conditions and stress). In the future it should be possible to identify changes in the level of eccDNA under different experimental conditions using 2D gels, after standardizing the DNA samples as previously demonstrated for plant DNA [15].
Conclusions
Our identification of eccDNA in human cells has opened up a new research area that could potentially uncover mechanisms underlying complex behaviours of large genomes. Further research will provide an insight into the contribution of eccDNA to the genome function and dynamics, in particular with respect to genome instability, function of satellite sequences and evolution of chromosomes.
Methods
Human cell lines
HeLa, HEK-293 and F-89 human primary human diploid fibroblasts [53] (courtesy of Y Shiloh) were grown in Dulbecco's Modified Eagle Medium (DMEM), supplemented with 10% FCS (20% for F-89) 100 units/mL penicillin, 0.1 mg/mL streptomycin at 37°C in the presence of 5% CO2.
SW620 - metastatic colon carcinoma cells [54](courtesy of I Witz) - were maintained in Leibovitz L-15 medium supplemented with 15% FCS, 2 mmol/L L-glutamine, 100 units/mL penicillin, 0.1 mg/mL streptomycin, 12.5 units/mL nystatin, 10 mmol/L HEPES buffer, and 0.075% sodium bicarbonate [55].
LAN-1-human neuroblatoma cells were grown in RPMI 1640 with 10% FCS, at 37°C in the presence of 5% CO2 (courtesy of Y Kloog).
Drosophila cells
Schneider 2 R+ (SR+) cells were grown in Schneider medium with L-Glutamine (Biological Industries) supplemented with 10% heat inactivated fetal bovine serum (Gibco), 100 unit/ml penicillin and 0.1 mg/ml streptomycin (Biological Industries) in 25 cm2 flasks at 25°C, without CO2 regulation.
DNA preparation
Total genomic DNA from confluent cultures was prepared as previously described [17]. The DNA (several to a few tens of micrograms) was cleaved with a restriction enzyme that did not cleave within the sequences of interest (Eco RI or Hind III, as indicated in the legends to the figures). Restriction digested DNA samples were extracted with phenol: chloroform and precipitated with ammonium-acetate and ethanol. DNA was resuspended in water and digested with 'plasmid-safe' adenosine triphosphate (ATP) dependent DNase (Epicentre) according to the manufacture's protocol. 'Plasmid-safe' DNase was used to enrich DNA samples for circular molecules using its specific affinity for double stranded linear DNA. The DNA was then either directly loaded onto the first dimension of the 2D gel or concentrated by ethanol precipitation and then resuspended and loaded onto the gel.
Neutral-neutral 2D gel electrophoresis, blotting and hybridization
Neutral-neutral 2D gel electrophoresis, blotting and hybridization were performed as previously described [12]. Briefly, the DNA was separated on the first dimension in 0.4% agarose at 0.7 V/cm in 1× TBE buffer (Tris -Borate-EDTA) overnight, and the second dimension was in 1% agarose containing 0.3 μg/ml EtBr at 4 V/cm in 1× TBE for 4 hours. The gels were blotted onto positively charged nylon membrane (Zeta-probe, BioRad). Probes were labelled by a random priming kit (Biological Industries). Radiolabelled DNA was detected by autoradiography.
DNA probe preparation
All probes were generated by polymerase-chain reaction (PCR) carried out on genomic DNA from HeLa cells and purified by a High Pure PCR product purification kit (Roche).
Alpha satellite probe was generated using primers directed to the conserved region of the alphoid monomer in PCR conditions as described [23]. For 5S rDNA probe we used primers as previously described [33]. Sst I probe (232 bp) was generated using primers designed according to its reported sequence [GneBank: X04912]: 5'GTGGTGGTGCATGGCCCCC3' and 5'GAGCTCCAGGATCACCACAGC3'.
Alu probe (158 bp) was generated using primers designed according to its reported consensus sequence [GneBank: U14568]: 5'GGCGGGCGGATCACGAGGTCAG3' and 5'CCCGGGTTCATGCCATTCTCCTG3'.
Abbreviations
ATP:

adenosine triphosphate
BND:

benzoylated naphthoylated DEAE
HEK:

human embryonic kidney cells
HeLa:

human cervical carcinima epithelial cells
HOR:

higher order elements
PCR:

polymerase chain reaction
RCI:

rolling circle intermediates
RCR:

rolling circle replication
SINES and LINES:

short and long interspersed nuclear elements
TBE:

Tris-Borate-EDTA
2D gel:

two-dimensional gel
Declarations
Acknowledgements
We thank the laboratory members, Y Kloog, I Witz and Y Shiloh, at Tel Aviv University for growing the human cell lines. This work was partially supported by the Israeli Ministry of Health (Grant No. 6-6436) to DS and SC and United States Department of Defense (DOD) Grant No. BC045788 to DS.
Authors' Affiliations
(1)
Department of Molecular Microbiology & Biotechnology, Tel-Aviv University, Tel-Aviv, Israel
Copyright
© Cohen et al; licensee BioMed Central Ltd. 2010
This article is published under license to BioMed Central Ltd. This is an Open Access article distributed under the terms of the Creative Commons Attribution License (http://creativecommons.org/licenses/by/2.0), which permits unrestricted use, distribution, and reproduction in any medium, provided the original work is properly cited.