Tn5 transposition in Escherichia coli is repressed by Hfq and activated by over-expression of the small non-coding RNA SgrS
Received: 18 August 2014
Accepted: 11 November 2014
Published: 30 November 2014
Abstract
Background
Hfq functions in post-transcriptional gene regulation in a wide range of bacteria, usually by promoting base pairing of mRNAs with trans-encoded sRNAs. It was previously shown that Hfq down-regulates Tn10 transposition by inhibiting IS10 transposase expression at the post-transcriptional level. This provided the first example of Hfq playing a role in DNA transposition and led us to ask if a related transposon, Tn5, is similarly regulated.
Results
We show that Hfq strongly suppresses Tn5 transposition in Escherichia coli by inhibiting IS50 transposase expression. However, in contrast to the situation for Tn10, Hfq primarily inhibits IS50 transposase transcription. As Hfq does not typically function directly in transcription, we searched for a transcription factor that also down-regulated IS50 transposase transcription and is itself under Hfq control. We show that Crp (cyclic AMP receptor protein) fits these criteria as: (1) disruption of the crp gene led to an increase in IS50 transposase expression and the magnitude of this increase was comparable to that observed for an hfq disruption; and (2) Crp expression decreased in hfq − . We also demonstrate that IS50 transposase expression and Tn5 transposition are induced by over-expression of the sRNA SgrS and link this response to glucose limitation.
Conclusions
Tn5 transposition is negatively regulated by Hfq primarily through inhibition of IS50 transposase transcription. Preliminary results support the possibility that this regulation is mediated through Crp. We also provide evidence that glucose limitation activates IS50 transposase transcription and transposition.
Keywords
Tn5/IS50HfqCrpSgrSDNA transposition
Background
Transposase proteins catalyze the chemical steps in bacterial transposition reactions. It follows that the regulation of expression of these genes is a critical feature in dictating the transposition frequency of most transposons. In many instances, including Tn10/IS10 and Tn5/IS50, transposase gene promoters are inherently weak. In addition, DNA adenine methylase (DAM) limits initiation of IS10 and IS50 transposase gene transcription by methylating promoter elements [1],[2]. These factors together make transcription initiation a limiting step in Tn10/IS10 and Tn5/IS50 transposition reactions [3],[4]. There are also examples where translation of transposase transcripts is subject to both intrinsic and host levels of regulation. In the case of IS10 transposase, the ribosome binding site is inherently weak and the transposon encodes an antisense RNA that binds the translation initiation region (TIR), blocking ribosome binding [5],[6]. There is also evidence that the 'host' protein Hfq helps mediate the pairing interaction between the antisense RNA and the IS10 transposase transcript [7],[8].
Hfq is a global regulator of gene expression in bacteria. It typically functions at the post-transcriptional level, influencing translation initiation and/or transcript stability by catalyzing the pairing of small RNAs (sRNA) and their mRNA targets (Figure
1
B and reviewed in [
9
]). In contrast to the many examples of Hfq acting in a post-transcriptional capacity to impact gene expression, there is (to our knowledge) only one example in the literature of Hfq acting at the level of transcription to influence gene expression. In the case of ribosomal proteins rpsO, rpsT and rpsB-tsf, Hfq was shown to increase transcript levels without influencing transcript stability. It was suggested that this is accomplished through Hfq binding to secondary structure elements in the respective transcripts that form early in the elongation phase of transcription and that this interaction reduces RNA polymerase pausing [
10
].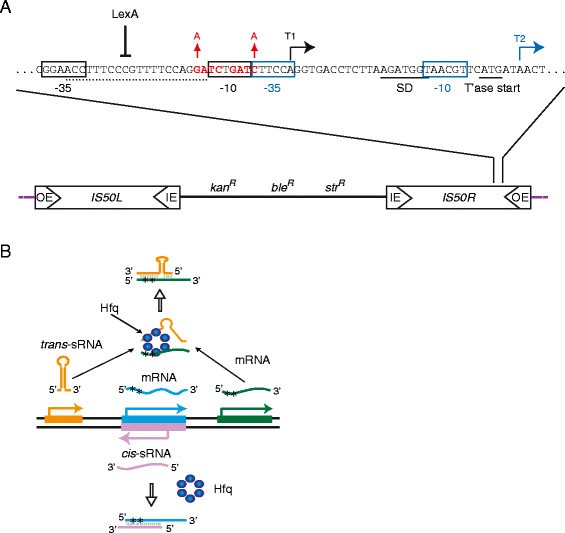 As noted above, Hfq has been implicated in the regulation of Tn10/IS10 transposition. Under conditions of hfq deficiency, a large increase in both Tn10/IS10 transposition (up to 80-fold) and transposase expression (up to 7-fold) were observed. The existing evidence is consistent with Hfq acting as a negative regulator of IS10 transposase expression by both antisense dependent and independent pathways. In support of the latter, it was found that hfq deficiency (or hfq − ) had a significant impact on Tn10 transposition even when the level of antisense RNA was insufficient to impact on transposase expression (that is when Tn10 is present in single copy in the bacterial chromosome). In addition, there was a synergistic increase in transposase expression when both hfq and the antisense RNA were knocked out, implying that Hfq does not function exclusively in the same pathway as the antisense RNA [7].
Taking the above results into account, and considering that most bacterial transposition systems are not regulated by antisense RNAs, we wondered if Hfq might play a more general role in regulating transposition systems. In the current work, we tested this hypothesis by asking if Tn5 transposition is also regulated by Hfq. Like Tn10, Tn5 is a composite transposon (Figure 1A). The two transposons are closely related but Tn5 lacks an antisense RNA regulatory system and consequently if Hfq were to regulate this system at the post-transcriptional level, it is likely that a trans-encoded sRNA would play a role [11]-[13]. Tn5 does encode an inhibitor protein that limits Tn5/IS50 transposition by dimerizing with the transposase protein, forming an inactive complex [14]. Transposase and the inhibitor protein are expressed from overlapping promoters, P1 and P2 (color coded in Figure 1A), with the inhibitor transcript (T2) being expressed at a higher level than the transposase transcript (T1). T1 expression is down-regulated by DAM (reviewed in [15]). There is some evidence that P1 is also negatively regulated by LexA, an SOS-inducible transcriptional repressor [16]. However, there is little else known with regard to host proteins that influence either transposase transcription or translation.
In the current work, we show that both Tn5 transposition and IS50 transposase expression increase significantly in E. coli under conditions of hfq deficiency. However, unlike the situation in Tn10/IS10 transposition, the up-regulation of IS50 transposase expression appears mainly to be due to an increase in transposase gene transcription. As Hfq does not typically function directly in transcription, we looked at the possibility that Hfq regulates IS50 transposase expression by controlling the expression of a transcription factor. Towards this end, we provide evidence that Hfq acts in a regulatory network with Crp (cyclic AMP receptor protein) to down-regulate IS50 transposase transcription. Finally, we demonstrate that over-expression of an sRNA (SgrS) activates expression of the IS50 transposase gene specifically when cells are grown with glucose as the sole carbon source. Evidence is presented that this up-regulation is a consequence of glucose limitation, demonstrating that the IS50 transposase promoter (and Tn5 transposition) is responsive to the nutrient status of the cell.
Discussion
Hfq is a global regulator of gene expression in bacteria. However, until recently, Hfq had not been linked to the control of transposable elements. Work in the Tn10/IS10 system provided the first example of Hfq inhibiting a transposon [7]. In the current work, we asked if the transposition of a related element, Tn5/IS50, is also regulated by Hfq. We show that Tn5 transposition and IS50 transposase expression are repressed by Hfq; however, the mechanism of repression is atypical for Hfq, involving predominantly a block in IS50 transposase transcription. Preliminary evidence is presented that is consistent with Hfq modulating IS50 transposase transcription through regulation of Crp. We also show that transposase transcription and Tn5 transposition are activated by over-expression of the sRNA SgrS and provide evidence that this is a transcriptional response to glucose limitation.
Hfq negatively regulates Tn5 transposition
The results of 'mating out' experiments were consistent with Hfq acting as a strong negative regulator of Tn5 transposition. Tn5 transposition increased close to 75-fold in one hfq − strain (DBH179 background). The magnitude of this increase was somewhat surprising given that up-regulation of Tn10 in hfq − , under essentially antisense-minus conditions, was about 7-fold [7]. However, in a different hfq − strain (DBH261 background) Tn5 transposition increased only 9-fold. At this point it is unclear why there was such a large discrepancy in the 'mating out' values for the two strains. One possibility is that colony counts in the DBH179 'mating out' (hfq − ) included clones that had 'jack-pot' events. That is, colonies were counted that did not derive from independent transposition events. This could explain the high standard error associated with the transposition frequency in the hfq − column in Figure 2A. If, for example, we removed the 3 most prominent outliers from the (DBH179) hfq − data set, the fold increase in transposition dropped to 15-fold, which is more in line with what we observed in the DBH261 strain background and for Tn10 in single copy [7].
A trans-complementation (Figure 2A) experiment provided definitive proof that the increase in Tn5 transposition detected in one of our hfq − 'mating out' strains (DBH179 background) was in fact due to hfq deficiency. In addition, the failure of two Hfq RNA-binding face mutants to provide complementation was consistent with Hfq-directed inhibition of Tn5 transposition relying on functions of Hfq required in canonical Hfq-directed regulatory pathways [17]. That is, Hfq must retain the ability to bind both mRNAs and sRNAs to influence Tn5 transposition.
Hfq, Crp and IS50 transposase gene expression
Evidence that hfq status influences IS50 transposase expression came from two types of experiments. First, the expression of transposase-lacZ reporter genes in both transcriptional and translational fusion constructs increased significantly under conditions of hfq deficiency. Second, the steady-state level of the native transposase transcript also increased significantly in hfq − . Importantly, the large increase in steady-state transcript level (11-fold) coincided with a less substantial increase in transposase mRNA stability (less than 2-fold increase in half-life). In addition, up-regulation of reporter expression in hfq − for a TLF was almost completely abrogated when the IS50 transposase promoter was replaced by a heterologous promoter. Taken together, these results are consistent with Hfq (or a factor regulated by Hfq) suppressing IS50 transposase expression predominantly at the level of transcription. Notably the suppressive effect of Hfq on IS50 transposase transcription was remarkably specific, as the level of a second transcript (T2) encoded by IS50 was not affected by hfq status.
As Hfq does not typically act directly in gene transcription, we think it likely that Hfq acts indirectly on the IS50 transposase promoter. In addition to DAM, only one other transcription factor, LexA, has been implicated as a regulator of transposase transcription. There is a weak LexA-binding site in the transposase promoter (Figure 1A); however, lexA deficiency was shown to increase transposase transcription only two to three-fold in a TCF [16]. As we have seen increases in transposase expression of up to 11-fold for a TCF in hfq−, it seems unlikely that Hfq would be working through LexA. In contrast, transposase expression increased in dam − to a level more in line with that observed in hfq − (less than two-fold difference in the TCF). However, the observed synergy between hfq − and mutations that rendered the IS50 transposase promoter DAM-insensitive led us to conclude that Hfq does not regulate IS50 transcription by impacting DAM levels (and, therefore, promoter methylation). These results provided motivation to search for other targets of Hfq that impinge on IS50 transposase transcription. This search identified Crp as an additional negative regulator of IS50 transposase transcription. Notably, transposase expression increased to approximately the same level in crp − and hfq − in the experiment in Figure 7. The similar magnitude of up-regulation of transposase expression in hfq− and crp− could be indicative of Hfq acting upstream of Crp to inhibit transposase expression. We did in fact find evidence of Hfq positively regulating Crp protein levels (Figure 7C). This observation is consistent with work recently published in the Y. pestis system where it was found that Crp protein levels decreased approximately five-fold in an hfq disruption strain [20].
Crp is a known activator/repressor of transcription [18] and, therefore, more likely than Hfq to be directly involved in regulating IS50 transposase expression at the transcriptional level. Given our evidence that Hfq positively regulates crp expression, a plausible scenario explaining our expression data is that the observed up-regulation of IS50 transposase transcription in hfq − is a result of decreased Crp protein levels. Crp may act either directly or indirectly on the IS50 transposase promoter to repress transcription. This is currently a working model as we have not yet tested the possibility that Crp binds the IS50 transposase promoter and it may only be coincidental that transposase expression increased to similar levels in hfq − and crp − strains. Notably, we also found that Tn5 transposition increased when the crp gene was disrupted, although the extent of the increase was smaller than that observed in the isogenic hfq disruption strain. This could be indicative of additional factors in the Hfq regulon impinging on Tn5 transposition.
There is precedent for Crp down-regulating the transcription of a transposase gene. In the case of IS2, transposase transcription increased close to 200-fold in crp − . It was also shown through protein-DNA footprinting that Crp binds directly to the IS2 transposase promoter [29]. Interestingly, based on the consensus binding sequence for Crp, the authors of the above study predicted that Crp would bind to the IS50 transposase gene. However, the predicted crp binding site is located downstream of the transposase promoter and is not present in our TCF (where we detected increased transposase expression in crp − ). Nevertheless, it would be worthwhile to test for Crp binding to the IS50 transposase promoter as the results of Crp ChIP-chip studies revealed the presence of thousands of weak crp binding sites scattered throughout the E. coli genome [30]. It is also possible that Crp acts indirectly on the IS50 transposase promoter by regulating the expression of another transcription factor.
Tn5 transposition and metabolic stress
We also identified conditions that activate transposase expression and transposition; over-expression of the sRNA SgrS increased transposase expression and transposition approximately five-fold. We favor the possibility that this induction is a consequence of glucose limitation but cannot formally rule out the possibility that SgrS targets an as yet undefined regulatory pathway that impinges on transposase expression. Our reasoning for this is that we observed induction of transposase expression and transposition specifically when cells were grown with glucose as the major carbon source and SgrS is known to prevent expression and function of the major glucose transporter encoded by the ptsG gene [26]. Consistent with this idea, we found that transposase induction levels correlated with a reduced growth rate. Furthermore, we demonstrated that: (i) an allele of SgrS (sgrS1) that is incapable of down-regulating ptsG expression failed to induce transposase expression in M9 glucose; (ii) under conditions where SgrS was expressed in M9 glucose media supplemented with glycerol, we failed to see induction of transposase expression to the same extent as when glycerol was absent; (iii) SgrS expression did not impact transposase expression when cells were grown in rich media (LB) and (iv) over-expression of 3 other sRNAs (RybB, RyeB and MicC) that are not expected to influence glucose transport did not increase transposase expression in M9 glucose [31]-[33]. Precedent for nutritional stress influencing transposition comes from earlier work in the IS903 system where mutations in a gene (aspA) required for fermentative metabolism during anaerobic growth caused transposition to occur at an accelerated rate [34].
At this point it is unclear as to what factors are driving the induction of the transposase gene under SgrS over-expression conditions. With regard to further defining the mechanism of IS50 transposase up-regulation under SgrS over-expression conditions, it would also be advantageous to find alternative experimental conditions for achieving this increased expression. If, for example, simply starving cells by restricting a carbon source during growth achieves the same end as over-expressing SgrS in M9 glucose media, an unbiased screen to search for genetic factors that are necessary for the up-regulation of transposase expression could be performed to reveal the regulatory network impinging on the transposase promoter. As it stands, any factors that influence SgrS expression would interfere with the outcome of such a screen. Alternatively, if it was found that restricting glucose is not sufficient for inducing transposase expression, the possibility that SgrS plays a more direct role in controlling transposase expression would have to be considered.
Conclusions
In this work, we have identified several genes that impact on IS50 transposase expression, including hfq, crp and sgrS. Hfq and Crp proteins are negative regulators and SgrS RNA (under specific growth conditions) is a positive regulator of transposase gene expression. Exactly how these factors impinge on transposase expression remains to be worked out and at this point it is not clear if we are seeing modulation of the same regulatory network in opposite directions when hfq and crp genes are disrupted and SgrS RNA is over-expressed. Tn5/IS50 is the second transposon identified that is affected by disruption of the hfq gene and the first that does not encode an antisense RNA. This raises the possibility that Hfq influences the transposition frequency of many other bacterial transposons.
Abbreviations
BSA:

bovine serum albumin
Crp:

cyclic AMP-receptor protein
DAM:

DNA adenine methylase
DMSO:

dimethyl sulfoxide
DTT:

dithiothreitol
EDTA:

ethylenediaminetetraacetic acid
LB:

Luria broth
PAGE:

polyacrylamide gel electrophoresis
PCR:

polymerase chain reaction
RT-PCR:

reverse transcription polymerase chain reaction
sRNA:

small RNA
SDS:

sodium dodecyl sulfate
TBE:

Tris borate-EDTA buffer
TBST:

20 mM Tris-HCl (pH 7.5), 150 mM sodium chloride, 0.5% Tween-20
TCF:

transcriptional fusion
TIR:

translation initiation region
TLF:

translational fusion
UTR:

untranslated region
UV:

ultraviolet light
Declarations
Acknowledgements
We thank Michael Ellis for providing comments on the manuscript and for useful discussions, and Claire Young for assistance with P1 transductions. We also thank S Gottesman and C Vanderpool for providing pLlacO-sRNA expression plasmids and the sgrS1 allele, respectively, and H Aiba for providing an anti-Crp antibody. Finally, we thank W Reznikoff for providing IS50 transposase plasmids and T Naas for providing an E. coli strain harboring pOX38-Gen. This work was supported by a grant to DBH (MOP 11281) from Canadian Institutes of Health Research. JR and CM were supported by OGS and NSERC scholarships.
Authors' Affiliations
(1)
Department of Biochemistry, University of Western Ontario, London, Canada
Copyright
© Ross et al.; licensee BioMed Central Ltd. 2014
This article is published under license to BioMed Central Ltd. This is an Open Access article distributed under the terms of the Creative Commons Attribution License (http://creativecommons.org/licenses/by/4.0), which permits unrestricted use, distribution, and reproduction in any medium, provided the original work is properly credited. The Creative Commons Public Domain Dedication waiver (http://creativecommons.org/publicdomain/zero/1.0/) applies to the data made available in this article, unless otherwise stated.