Homing endonucleases from mobile group I introns: discovery to genome engineering
Received: 2 December 2013
Accepted: 13 February 2014
Published: 3 March 2014
Abstract
Homing endonucleases are highly specific DNA cleaving enzymes that are encoded within genomes of all forms of microbial life including phage and eukaryotic organelles. These proteins drive the mobility and persistence of their own reading frames. The genes that encode homing endonucleases are often embedded within self-splicing elements such as group I introns, group II introns and inteins. This combination of molecular functions is mutually advantageous: the endonuclease activity allows surrounding introns and inteins to act as invasive DNA elements, while the splicing activity allows the endonuclease gene to invade a coding sequence without disrupting its product. Crystallographic analyses of representatives from all known homing endonuclease families have illustrated both their mechanisms of action and their evolutionary relationships to a wide range of host proteins. Several homing endonucleases have been completely redesigned and used for a variety of genome engineering applications. Recent efforts to augment homing endonucleases with auxiliary DNA recognition elements and/or nucleic acid processing factors has further accelerated their use for applications that demand exceptionally high specificity and activity.
Keywords
Homing endonucleaseMeganucleaseGroup I intronGene targeting
Introduction
Homing endonucleases, also termed 'meganucleases', are highly specific DNA cleaving enzymes, found within all forms of microbial life as well as in eukaryotic mitochondria and chloroplasts, that are encoded by genes that display genetic mobility and persistence. The activity of these proteins is directly responsible for the genetic behavior of their corresponding reading frames, by inducing homology-driven gene conversion events at the site of the DNA double-strand break that result in invasion by the endonuclease gene. When the homing endonuclease gene is embedded within a self-splicing element (a microbial intron or intein), the homing endonuclease gene is further enabled with the ability to invade coding sequences within their hosts' genomes. Studies of the genetic behavior of homing endonuclease genes and of the structure and function of their endonuclease gene products over the past several decades have provided enormous detail on their evolution and function, and have allowed several types of homing endonucleases to be engineered and used for applications that require targeted gene modification.
The discovery of mobile introns and their homing endonucleases dates back to the 1970s. In 1978, an intervening sequence within a yeast mitochondrial ribosomal DNA (rDNA) was visualized using electron microscopy [
1
]. A subsequent study [
2
] described the sequence and organization of this yeast element, concluding that the rDNA was interrupted by an insertion of approximately 1 kb. Taken together, these papers provided the initial details corresponding to a locus in the yeast mitochondrial genome, termed 'omega', that had previously been observed to display dominant, non-Mendelian inheritance in mating experiments, a phenomena that eventually became known as 'homing' (Figure
1
) [
3
].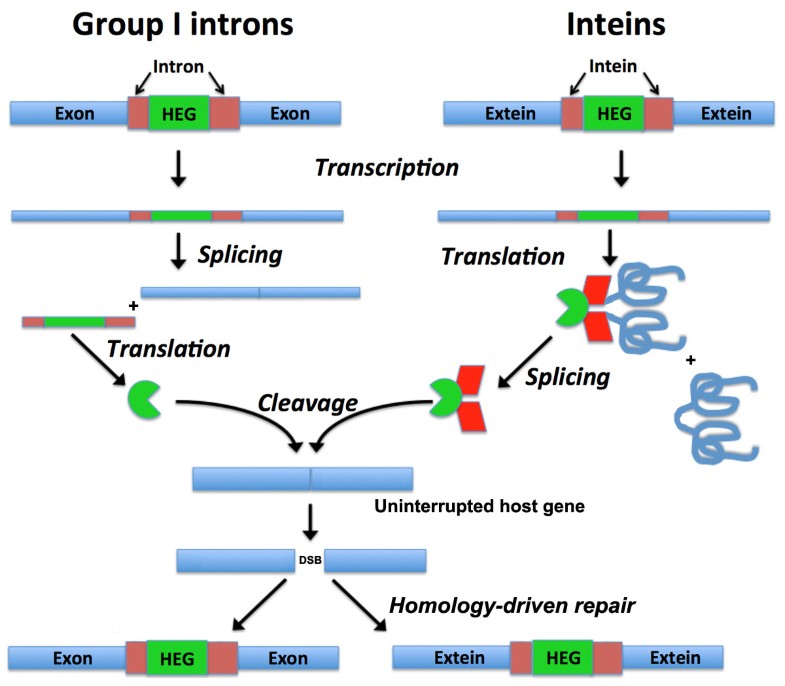 Within 2 years, the complete nucleotide sequence of that mobile element, corresponding to a group I intron, was determined from several yeast strains. These analyses indicated that the intron was exceptionally long (1,143 base pairs), and contained an apparent reading frame that might encode a 235 residue protein [4]. A comparison of rDNAs from divergent organisms demonstrated that introns with similar organizations appeared to exist at a variety of positions within that otherwise highly conserved host gene, leading to a suggestion that these elements were recent additions to their mitochondrial genomes.
A similar study of intron sequences in the yeast mitochondrial cytochrome b (cob) gene, reported in the same year, demonstrated the presence of a different intron-encoded protein that appeared to be responsible for "mRNA maturase" activity (a function required for splicing and maturation of the cytochrome b message) [5]. Thus, the presence and sequence of several intron-encoded protein factors, and hypotheses describing two different biological functions (intron homing and intron splicing) were established in the literature within a period of several months.
Shortly after the initial descriptions of these intron-encoded reading frames, studies of a seemingly unrelated biological phenomenon provided the first hints of a biochemical mechanism that would eventually be linked to the process of intron homing [6, 7]. Termed the 'yeast mating type switch', this process required the action of a site-specific endonuclease (at the time, termed 'YZ endonuclease') that was found to drive the homology-driven conversion of the yeast mating type (MAT) locus. A gene at that site encodes a transcription factor which activates either of two different suites of genes that control MAT: the DNA cleavage event driven by this endonuclease-induced recombination between MAT and a 'hidden MAT' locus. In subsequent years, the YZ endonuclease was renamed the HO endonuclease, and found to belong to the LAGLIDADG protein family. The observations in these early studies, which pre-dated the first biochemical characterization of a LAGLIDADG homing endonuclease, reported many of the eventual hallmarks of their properties, including the description of a long DNA target site and the observation of variable fidelity at several base-pair positions within that site. The actual notation of the conserved LAGLIDADG protein motif, which is found in many proteins involved in intron mobility, intron splicing and MAT gene conversion, was subsequently facilitated by the identification and sequencing of a sufficient number of intron-encoded proteins to allow its identification [8].
In 1985, several research groups demonstrated that translation of an intron-encoded protein, from the large rDNA gene in Saccharomyces cerevisiae mitochondria, was required and responsible for that intron's mobility and inheritance, and that a double-strand break formed in vivo either at or near the site of the intron insertion was required for that process [9–11]. While these investigators noted that this intron behavior was somewhat similar to transposase function, they further indicated that the homing process appeared to correspond to a non-reciprocal recombination event at the cleavage and intron insertion site (that is, at 'omega'), and was accompanied by co-conversion of DNA sequence tracts flanking the intron. Subsequently, the catalytic activity and specificity of the protein, and its probable role in creating a double-strand break at omega, was demonstrated using purified recombinant protein [12]. Subsequent analyses firmly established that the protein appeared to recognize a target site spanning approximately 20 base pairs in length, and demonstrated that the protein displayed a complex pattern of recognition fidelity across that target site [13].
While many of the seminal observations regarding homing endonuclease function were made using genetic information and systems derived from fungal mitochondria, additional studies on similar mobile elements in algal chloroplasts further demonstrated their ubiquitous distribution and the generality of their ability to invade host genes. In particular, studies of the I-CreI homing endonuclease from Chlamydomonas reinhardtii further established the roles played by the enzyme and a surrounding intron in genetic mobility and persistence, as well as reinforcing the concept that flanking homology regions near the site of an enzyme-induced double-strand break are critical for gene conversion [14–16]. Subsequent analyses of the distribution inheritance of additional mobile introns and homing endonucleases derived from algal chloroplasts, such as I-CeuI and I-MsoI, demonstrated that organellar genomes (and in particular, their rDNA genes) are often densely populated with such mobile elements [17–19].
In 1990, an examination of an unusual gene structure encoding a yeast vacuolar ATPase led to the discovery of a novel form of splicing, in which the intervening sequence was translated in-frame with the surrounding host gene, and then precisely excised (without the aid of auxiliary factors) post-translationally [20]. Found within that element, which was eventually termed an 'intein', was a sequence that again harbored sequence similarity to the LAGLIDADG protein family. Similar to the role of intron-encoded endonucleases in homing, the resulting protein product (an in-frame fusion of endonuclease and surrounding intein) was found to be responsible for the mobility and invasiveness of the entire intervening sequence [21]. The corresponding protein construct (eventually named 'PI-SceI') eventually served as one of the first homing endonucleases to be characterized mechanistically [22, 23].
While much of the basic molecular biology of mobile introns and their homing was established by studies of intervening sequences isolated from organellar genomes in fungal and algal hosts, a series of subsequent studies using phage-derived mobile introns were critical for firmly establishing several additional details of that process. Shortly after the discovery of introns within phage genomes [24], investigators determined that many of them display mobility that is the result of intron-encoded homing endonucleases [25]. The ability to conduct quantitative homing assays using phage, both as a gene delivery vehicle and as a genetic recipient for mobile introns, allowed investigators to systematically characterize the mechanism and efficiency of intron transfer events to recipient alleles. These experiments demonstrated: (i) that homing is associated with co-conversion of flanking sequences that reflect the recombination process involved in the process of intron mobility [26]; and (ii) that the homing event does not specifically require the actual presence of an intron or intein, but instead is dependent only upon the expression of the endonuclease, the presence of its target site in acceptor DNA, the presence of sufficient homology between the DNA acceptor and donor, and the availability of phage- or host-encoded recombinase and exonuclease activities [27]. Subsequent studies demonstrated that intron mobility occurs in the context of phage recombination-dependent replication, and that homology-driven intron transfer can occur via multiple competing strand invasion pathways [28].
Conclusions
There is much to be learned from the history of studies of mobile introns and their associated protein factors (which has the advantage, from the point of view of the investigator tasked with writing this review, of starting with an obvious 'big-bang' moment corresponding to their initial discovery in 1971). From a biological standpoint, perhaps the most important insights are those gained by reducing the complexities that surround the co-evolution of a host and a parasitic endosymbiont down to the simplest level: that of a DNA binding protein tasked with the recognition of an evolving genomic target. This simple molecular drama, conducted over many generations and replete with many nuances and subtleties, continues to play out in every biological kingdom, using all known types of homing endonucleases, split gene structures, and host genes. At the same time, the functional capabilities of these small mobile elements are continually being spun-off into new and different biological pathways and functions, ranging from the protection and maintenance of the genome (an ironic twist given that the fundamental purpose of a homing endonuclease is to act as an invasive element) to the transcriptional regulation of complex developmental processes.
Beyond these scientific points, the importance of homing endonucleases for genome engineering speaks clearly of the impact, often unexpected and unpredictable, that basic research, even of the most seemingly esoteric or mundane type, can have on the creation of entirely new areas of biotechnology and medicine. Just as studies of bacterial phage restriction in the early 1950s led to the discovery and application of restriction endonucleases (molecules that, when harnessed, paved the way for the creation and use of recombinant DNA and the establishment of the biotechnology industry), the study of seemingly minor and unimportant genetic markers in yeast and phage provided the initial steps into a field of targeted genetic modification and genome engineering that may revolutionize much of the way in which future biological studies are conducted.
Abbreviations
CRISPR:

clustered regularly interspaced short palindromic repeats
FACS:

flow-assisted cell sorting
MAT:

mating type
rDNA:

ribosomal DNA
TAL(EN):

transcriptional activator like (effector nuclease)
ZFN:

zinc-finger nuclease.
Declarations
Acknowledgments
The work conducted in the authors laboratory, and the preparation of this review, were supported by a research grant from the NIH (R01 GM49857). The author thanks Dr Marlene Belfort for helpful suggestions and critiques.
Authors' Affiliations
(1)
Division of Basic Sciences, Fred Hutchinson Cancer Research Center, Seattle, USA
Copyright
© Stoddard; licensee BioMed Central Ltd. 2014
This article is published under license to BioMed Central Ltd. This is an Open Access article distributed under the terms of the Creative Commons Attribution License (http://creativecommons.org/licenses/by/2.0), which permits unrestricted use, distribution, and reproduction in any medium, provided the original work is properly credited. The Creative Commons Public Domain Dedication waiver (http://creativecommons.org/publicdomain/zero/1.0/) applies to the data made available in this article, unless otherwise stated.