Recent advances in in vivo applications of intein-mediated protein splicing
Received: 31 October 2013
Accepted: 7 January 2014
Published: 4 February 2014
Abstract
Intein-mediated protein splicing has become an essential tool in modern biotechnology. Fundamental progress in the structure and catalytic strategies of cis- and trans- splicing inteins has led to the development of modified inteins that promote efficient protein purification, ligation, modification and cyclization. Recent work has extended these in vitro applications to the cell or to whole organisms. We review recent advances in intein-mediated protein expression and modification, post-translational processing and labeling, protein regulation by conditional protein splicing, biosensors, and expression of trans-genes.
Keywords
InteinProtein splicingPost-translational modificationProtein purificationTrans-splicingConditional protein splicingTrans-genesBiosensor
Introduction
Protein splicing is a post-translational process by which an intervening polypeptide, called an intein, catalyzes its own excision from the flanking polypeptides, or exteins, as well as ligation of the exteins (Figure
1
A).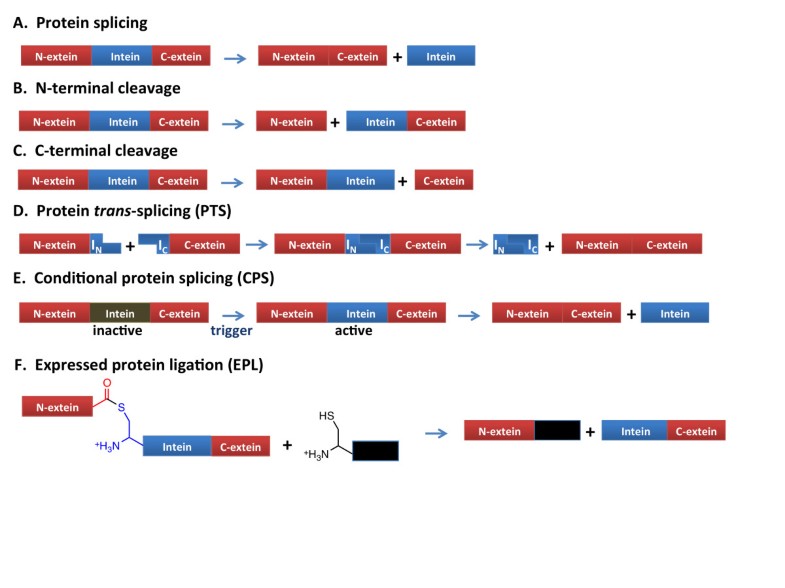 Many inteins are interrupted by homing endonuclease domains similar to those found in mobile introns. However, the homing endonuclease domain can be deleted from the intein without complete loss of splicing activity and is absent in a class of inteins called mini-inteins[1].
The mechanism of splicing for canonical inteins is a four-step process (Figure
2
)[
1
,
2
]. First, the peptide bond linking the N-extein and intein is converted to a thioester or ester via nucleophilic attack by the N-terminal Cys or Ser of the intein (Step 1). Second, the N-extein is transferred from the side chain of the first intein residue to the side chain of the first C–extein residue (Cys, Ser or Thr) by transesterification, resulting in a branched ester intermediate (Step 2). Third, the branched ester is resolved by Asn cyclization coupled to peptide bond cleavage (Step 3). This leaves the ligated exteins separated from the intein and linked by an ester bond, while the intein has a C-terminal aminosuccinimide. Finally, the ester bond connecting the ligated exteins is rapidly converted to the amide bond, and the C-terminal aminosuccinimide of the intein may be hydrolyzed (Step 4).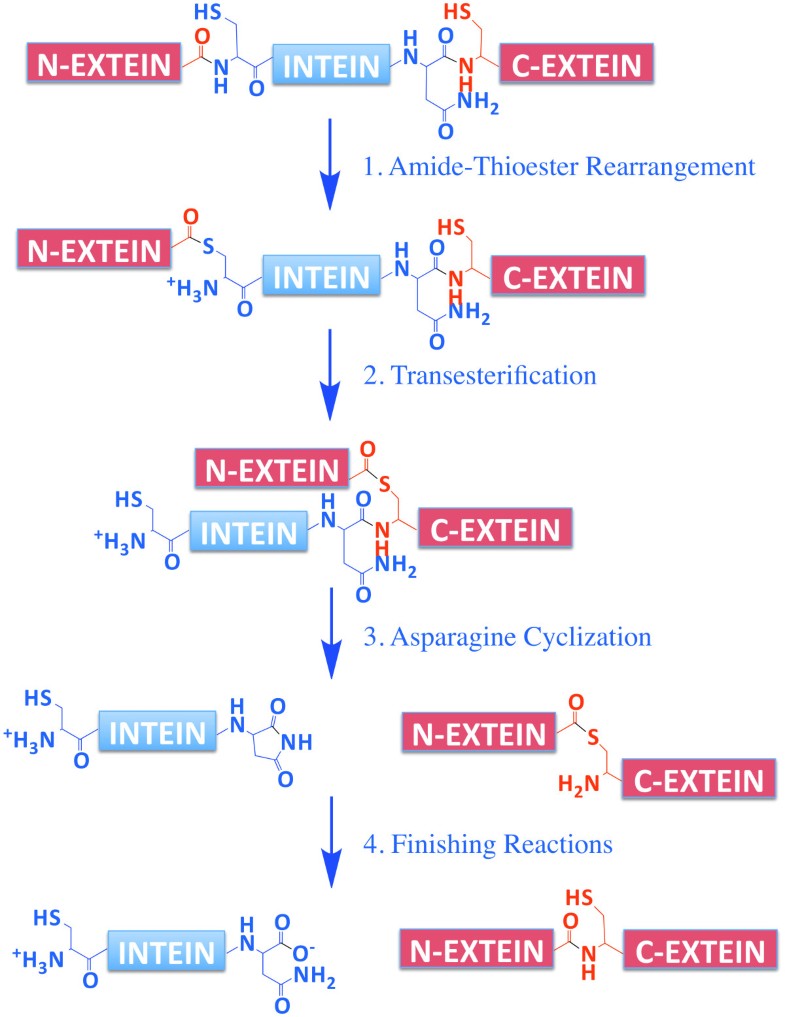 Two side reactions can occur if the splicing process is disrupted (Figure 1 B and C). The ester or thioester formed in Steps 1 and/or 2 may be cleaved by hydrolysis or thiolysis, uncoupled from Asn cyclization. This process is called N-terminal cleavage, and results in cleavage of the N-extein from the precursor (Figure 1B). Alternatively, Asn cyclization may occur uncoupled from Steps 1 and 2, freeing the C-extein in a process called C-terminal cleavage (Figure 1C).
Some inteins are expressed as two separate fragments, either natively or by protein engineering, and facilitate protein splicing in trans (Figure 1D). In protein trans-splicing, or PTS, reassociation of the intein fragments is required prior to splicing.
Both cis- and trans- splicing inteins have been engineered to undergo conditional protein splicing, or CPS (Figure 1E). CPS requires the addition of a trigger to initiate splicing of a precursor fusion protein. Such triggers include light, changes in pH or temperature, change in redox state, or the addition of a small molecule[2–6]. For CPS of trans- splicing inteins, split dimerization domains have been fused to the intein fragments to make reassociation conditional on addition of a small molecule or on the affinity of the domains[2–6].
Intein-based methods have been developed to facilitate purification and post-translational modifications of recombinant proteins. Expressed protein ligation (EPL) and protein trans-splicing (PTS)[7–9] can produce proteins with site-specific incorporation of a diverse set of chemical modifications[6, 7, 10–13]. We introduce these methods here and will describe more recent applications below.
EPL is a method to modify the C terminus of a recombinant protein[14, 15] (Figure 1F). The protein is fused at its C terminus to an intein, which promotes formation of a thioester between the protein and intein. The protein is then transferred to the side chain of a synthetic peptide with an N-terminal Cys (or a protein with N-terminal Cys revealed by proteolysis or intein-mediated cleavage). The peptide may contain non-native amino acids or other chemical probes that can be incorporated by solid phase peptide synthesis. EPL is similar to native chemical ligation[16], which facilitates the ligation of a small synthetic peptide with a C-terminal α-thioester to a peptide with an N-terminal Cys. In most EPL strategies, the ligated segments have no natural affinity to each other and there is an entropic barrier to ligation. However, this entropic barrier can be overcome if the segments to be ligated have affinity for one another[17].
In PTS, natively or artificially split inteins ligate the exteins via a peptide bond[18, 19]. The production of semi-synthetic proteins via PTS takes advantage of the affinity between the intein fragments. However, PTS relies on efficient splicing rather than on intein side reactions. Thereby it has additional challenges in that efficient splicing may depend more heavily on the presence of short native exteins and on where the target protein is split. As a result, one may need to incorporate short native extein sequence into the final ligation product or substantially optimize the split site.
Intein biotechnology applications have been extensively and expertly reviewed in the recent literature[2–6]. We aim to describe in detail the most recent advances in this area, including protein expression and modification, post-translational processing and labeling, protein regulation by conditional protein splicing, biosensors, and the expression of trans-genes.
Conclusions
It is exciting to observe that biotechnology applications of protein splicing have begun to move from proof-of-concept experiments to productive applications in which the intein is the tool rather than the object of study itself. However, the variability in how inteins behave in heterologous contexts can be a limiting factor in the general applicability of intein-based biotechnology. Going forward, recent advances in the understanding of the role of flanking extein residues in the splicing process[130–136] may improve our ability to predict or ameliorate this challenge. The discovery of split inteins that splice even faster than the Npu DnaE intein[137] also may increase the efficiency of PTS-based applications. The growing number of examples of in vivo protein manipulation using intein catalysis also promises advancement in intein-based tools for systems and functional biology.
Authors' information
NT is a post-doctoral scholar in the lab of Professor Marlene Belfort at the University at Albany; KM is associate professor and chair of the chemistry department at the College of the Holy Cross.
Abbreviations
ACP:

acyl carrier protein
ALS:

acetolactate synthase
CHO:

Chinese hamster ovary
CPS:

conditional protein splicing
eGFP:

enhanced GFP
EPL:

expressed protein ligation
EPSPS:

5-enolpyruvylshikimate-3-phosphate synthase
ER:

human estrogen receptor
GB1:

domain B1 of the immunoglobulin binding protein G
GFP:

green fluorescent protein
GPCR:

G-protein-coupled receptor
GST:

glutathione-S-transferase
GUS:

β-glucuronidase
HC:

heavy chain
Hay:

Haemophilus parainfluenzae
IC:

C-terminal intein fragment
IN:

N-terminal intein fragment
IP:

intein-derived protease
LC:

light chain
mRFP:

the monomeric red fluorescent protein
MHC:

major histocompatibility complex
Mtu:

Mycobacterium tuberculosis
Pch:

Penicillium chrysogenum
PH:

plextrin homology
POI:

protein of interest
PTS:

protein trans- splicing
Sce:

Saccharomyces cerevisiae
Ssp:

Synechocystis sp. PCC6803
TR-1:

human thyroid receptor
Declarations
Acknowledgements
We thank Marlene Belfort, Brian Callahan, Julie Reitter and Chunyu Wang for careful reading of the manuscript. The preparation of this manuscript was supported by the National Science Foundation under grant MCB-1244089 (KM), by a Henry Dreyfus Teacher-Scholar Award (KM) and by NIH grant GM44844 to MB (NT).
Authors' Affiliations
(1)
Department of Biological Sciences, University at Albany, State University of New York, Albany, USA
(2)
Department of Chemistry, College of the Holy Cross, Worcester, USA
Copyright
© Topilina and Mills; licensee BioMed Central Ltd. 2014
This article is published under license to BioMed Central Ltd. This is an Open Access article distributed under the terms of the Creative Commons Attribution License (http://creativecommons.org/licenses/by/2.0), which permits unrestricted use, distribution, and reproduction in any medium, provided the original work is properly cited. The Creative Commons Public Domain Dedication waiver (http://creativecommons.org/publicdomain/zero/1.0/) applies to the data made available in this article, unless otherwise stated.