Prevalence of SOS-mediated control of integron integrase expression as an adaptive trait of chromosomal and mobile integrons
Received: 9 November 2010
Accepted: 30 April 2011
Published: 30 April 2011
Abstract
Background
Integrons are found in hundreds of environmental bacterial species, but are mainly known as the agents responsible for the capture and spread of antibiotic-resistance determinants between Gram-negative pathogens. The SOS response is a regulatory network under control of the repressor protein LexA targeted at addressing DNA damage, thus promoting genetic variation in times of stress. We recently reported a direct link between the SOS response and the expression of integron integrases in Vibrio cholerae and a plasmid-borne class 1 mobile integron. SOS regulation enhances cassette swapping and capture in stressful conditions, while freezing the integron in steady environments. We conducted a systematic study of available integron integrase promoter sequences to analyze the extent of this relationship across the Bacteria domain.
Results
Our results showed that LexA controls the expression of a large fraction of integron integrases by binding to Escherichia coli-like LexA binding sites. In addition, the results provide experimental validation of LexA control of the integrase gene for another Vibrio chromosomal integron and for a multiresistance plasmid harboring two integrons. There was a significant correlation between lack of LexA control and predicted inactivation of integrase genes, even though experimental evidence also indicates that LexA regulation may be lost to enhance expression of integron cassettes.
Conclusions
Ancestral-state reconstruction on an integron integrase phylogeny led us to conclude that the ancestral integron was already regulated by LexA. The data also indicated that SOS regulation has been actively preserved in mobile integrons and large chromosomal integrons, suggesting that unregulated integrase activity is selected against. Nonetheless, additional adaptations have probably arisen to cope with unregulated integrase activity. Identifying them may be fundamental in deciphering the uneven distribution of integrons in the Bacteria domain.
Keywords
Integrase Gene
LexA Protein
IntI Sequence
LexA Binding
lexA Gene
Background
Integrons are bacterial genetic elements capable of incorporating exogenous and promoterless open reading frames (ORF), referred to as gene cassettes, by site-specific recombination (Figure
1
). First described in the late 1980s in connection with the emergence of antibiotic resistance [
1
], integrons always contain three functional components: an integrase gene (
intI
), which mediates recombination; a primary recombination site (
attI
); and an outward-orientated promoter (
P
C
) [
2
]. Cassette integrations occur mainly at the
attI
site, ensuring the correct expression of newly captured cassettes by placing them under the control of the
P
C
promoter [
3
,
4
]. To date, two main subsets of integrons have been described. On the one hand, mobile integrons, also referred to as multiresistance integrons, contain relatively few (two to eight) cassettes, and collectively encode resistance to a broad spectrum of antibiotics [
5
–
7
]. They have been conventionally divided into five different classes according to their
intI
gene sequence: class 1 for
intI1
, class 2 for
intI2
, class 3 for
intI3
, class 4 for
intISXT
(formerly
intI9
) and class 5 for
intIHS
[
8
,
9
]. Mobile integrons are typically associated with transposons and conjugative plasmids, ensuring their dissemination across bacterial species. They are present mostly in the Proteobacteria, but have also been reported in other bacterial phyla, such as Gram-positive bacteria [
9
]. By contrast, chromosomal integrons have been identified in the genomes of many bacterial species [
10
]. Because their phylogeny reflects a predominant pattern of vertical inheritance, these integrons are not catalogued based on the class nomenclature described above, but according to their host species [
8
,
9
]. A subfamily of these, termed superintegrons (SIs), has been specifically identified in the
Vibrionaceae
and, to some extent, in the
Xanthomonadaceae
and
Pseudomonadaceae
[
11
–
16
]. Superintegrons typically encompass between 20 and 200 cassettes with species-specific sequence signatures [
9
], and seem to be ancient residents of the host genome [
13
]. Most of the genes in the superintegron cassettes are of unknown function [
10
], but some of them are related to existing resistance cassettes [
17
–
20
]. Although stable under laboratory conditions, superintegrons have been reported to be the most variable loci of
V. cholerae
natural isolates [
12
,
21
], suggesting that integron reorganization might be occasionally upregulated in natural environments. Integron integrases mediate recombination by interacting with single-stranded (ss)
attC
sites present in all reported cassettes, employing a unique, site-specific recombination process [
22
–
24
]. Despite the importance of integrons in the acquisition and spread of antibiotic-resistance determinants and, from a broader perspective, in bacterial adaptation, little was known about the regulatory control and dynamics of cassette recombination until recently, when we reported that the expression of the integron integrases in the
V. cholerae
superintegron and in a class 1 mobile integron was controlled by the SOS response [
25
].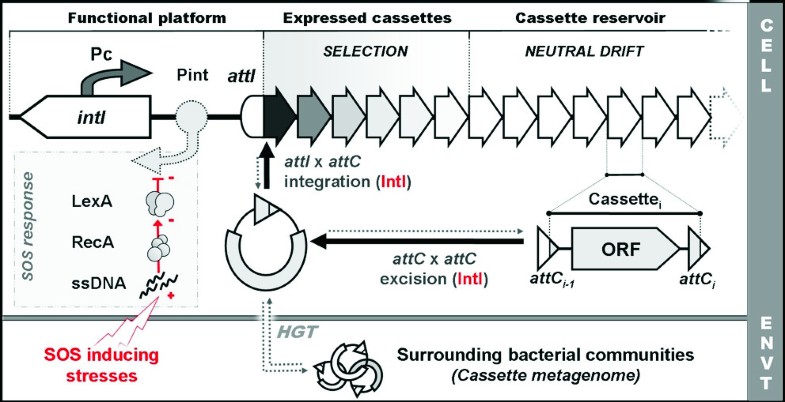 The SOS response is a global regulatory network governed by a repressor protein (LexA) and principally targeted at addressing DNA damage [26, 27]. LexA represses SOS genes by binding to highly specific binding sites present in their promoter regions. In E. coli and most β- and γ-Proteobacteria, these sites consist of a palindromic motif (CTGTatatatatACAG) 16 bp long, commonly known as the LexA box [26]. The SOS response is typically induced by the presence of ssDNA fragments, which can arise from a number of environmental stresses [28], but are typically linked to replication-fork stall caused by DNA lesions. These ssDNA fragments bind non-specifically to the universal recombination protein RecA [29], enabling it to promote LexA inactivation by autocatalytic cleavage [30], and thus inducing the SOS response. Up to 40 genes have been shown to be directly regulated by LexA in E. coli[31], encoding proteins that stabilize the replication fork, repair DNA, promote translesion synthesis and arrest cell division. Since its initial description in E. coli[26], the SOS response has been characterized in many other bacterial classes and phyla, and LexA has been shown to recognize markedly divergent motifs in different bacterial groups [27].
In recent years, the SOS response has been linked to clinically relevant phenotypes, such as the activation and dissemination of virulence factors carried in bacteriophages [32–34], transposons [35] pathogenicity islands [36] and in integrating conjugative elements encoding antibiotic-resistance genes [27, 37, 38]. Moreover, it has recently become established that some widely used antibiotics, such as fluoroquinolones, trimethoprim and β-lactams, are able to trigger SOS induction and are thus able to promote the dissemination of antibiotic-resistance genes [27, 37, 39–42]. This puts forward a positive feedback loop that has been suggested to have important consequences for the emergence and dissemination of antibiotic resistance [43]. Our recent work, showing a link between the SOS response and integrase-mediated recombination [25] further reinforces this line of reasoning. Such a link provides bacteria with an antibiotic-induced mechanism for gene acquisition, reorganization and dispersal. In hindsight, the coupling of genetic elements capable of cassette integration with a global response to stress comes out as an elegant and powerful pairing. Integrons can be seen as stockpiling agents of genetic diversity that, in addition, can tap into a huge and variable pool of cassettes through horizontal gene transfer from the surrounding bacterial communities (Figure 1) [10, 44]. Nonetheless, efficient expression of these acquired traits is strongly dependent on integrase-mediated recombination. Newly acquired cassettes sitting in the proximal region of the integron are strongly expressed by the P C promoter, but they can be displaced gradually to distal parts of the integron by the incorporation of new cassettes, and can thus become partially silenced. Infrequent excision and integration events can also relocate cassettes, moving them to distal or proximal parts of the integron, and thus have the ability to reinstate previously acquired cassettes (Figure 1). The timing of all these events is therefore of fundamental importance, and depends on the regulatory systems controlling the expression of the integron integrase gene. In this context, the discovery of a link between the SOS response and integrase expression is an important first step towards unraveling the precise mechanisms controlling integrase expression.
In this study, we expanded on this recent connection between the SOS response and integron integrase expression by means of a systematic study of integron integrase promoter regions. By combining in silico and in vitro methods, we show that LexA control of integrase expression is a widespread phenomenon that arose very early in the evolutionary history of integrons and has since been maintained through positive selection in mobile integrons and large chromosomal integrons. We report a significant correlation between the loss of LexA control and integrase inactivation, indicating that unregulated recombination may be deleterious in these genetic elements. Exceptions to this rule suggest that secondary adaptations to tolerate unregulated integrase expression may have arisen in some clades, and that the identification of such adaptations might shed light onto the uneven distribution of integrons in the Bacteria domain. We discuss these findings for the adaptive dynamics of integrons, and their implications for the acquisition and dissemination of antibiotic-resistance determinants.
Conclusions
The results presented here illustrate the extent of SOS regulation of integron integrases, and provide several important clues to the evolution of this regulation and to the evolution of bacterial integrons. The combination of in silico and in vivo assays allows us to conclude that LexA regulation was probably present in the primordial integron and that its loss may be linked to a number of factors, including inactivation of the integrase gene and enhancement of resistance cassettes expression. Our findings have important clinical implications for the evolution of antibiotic resistance, and suggest that the emergence of mechanisms to palliate unregulated integrase expression may provide an explanation for the uneven distribution of integrons across the Bacteria domain.
Funding
This work wmas supported by grants from the Ministère de la Recherche et de l'Enseignement supérieur, the Conseil Régional du Limousin, the Fondation pour la Recherche Médicale (FRM) and from the Institut National de la Santé et de la Recherche Médicale (Inserm) for the Ploy laboratory; by the Institut Pasteur, the Centre National de la Recherche Scientifique (CNRS URA 2171), the FRM and the EU (NoE EuroPathoGenomics, LSHB-CT-2005-512061), for the Mazel laboratory; and by grants BFU2008-01078/BMC from the Ministerio de Ciencia e Innovación de España and 2009SGR-1106 from the Generalitat de Catalunya, for the Barbé laboratory. NSA was supported by the Fundació Cellex at the Erill laboratory.
Declarations
Acknowledgements
We thank Mike C. O'Neill for his careful reading and comments on the different versions of this manuscript. We also thank Nicholas Friedman for his assistance in ancestral-state reconstruction techniques.
Authors' Affiliations
(1)
Institut Pasteur, Unité Plasticité du Génome Bactérien, Paris, France
(2)
Departament de Genètica i de Microbiologia, Universitat Autònoma de Barcelona, Bellaterra, Spain
(3)
Department of Biological Sciences, University of Maryland Baltimore County, Baltimore, USA
(4)
Faculté de Médecine, Université de Limoges, Limoges, France
(5)
Departamento de Sanidad Animal, Facultad de Veterinaria, and VISAVET, Universidad Complutense de Madrid, Madrid, Spain
Copyright
© Cambray et al; licensee BioMed Central Ltd. 2011
This article is published under license to BioMed Central Ltd. This is an Open Access article distributed under the terms of the Creative Commons Attribution License (http://creativecommons.org/licenses/by/2.0), which permits unrestricted use, distribution, and reproduction in any medium, provided the original work is properly cited.