Genetic exchange in eukaryotes through horizontal transfer: connected by the mobilome
Gabriel Luz Wallau

1

Email author

,

Cristina Vieira

2 and

Élgion Lúcio Silva Loreto

3
Received: 15 November 2017
Accepted: 24 January 2018
Published: 31 January 2018
Abstract
Background
All living species contain genetic information that was once shared by their common ancestor. DNA is being inherited through generations by vertical transmission (VT) from parents to offspring and from ancestor to descendant species. This process was considered the sole pathway by which biological entities exchange inheritable information. However, Horizontal Transfer (HT), the exchange of genetic information by other means than parents to offspring, was discovered in prokaryotes along with strong evidence showing that it is a very important process by which prokaryotes acquire new genes.
Main body
For some time now, it has been a scientific consensus that HT events were rare and non-relevant for evolution of eukaryotic species, but there is growing evidence supporting that HT is an important and frequent phenomenon in eukaryotes as well.
Conclusion
Here, we will discuss the latest findings regarding HT among eukaryotes, mainly HT of transposons (HTT), establishing HTT once and for all as an important phenomenon that should be taken into consideration to fully understand eukaryotes genome evolution. In addition, we will discuss the latest development methods to detect such events in a broader scale and highlight the new approaches which should be pursued by researchers to fill the knowledge gaps regarding HTT among eukaryotes.
Keywords
Horizontal transferHorizontal transmissionDetection methodsImpact on host genomesTransposable elements
Background
Inheritance of genetic information begins with DNA replication in parental lines followed by its transfer to offspring or, from an evolutionary perspective, to descendant species. Such process that rules Mendelian inheritance and evolution is known as vertical transmission or Vertical Transfer (VT). However, there is an alternative pathway for genetic information exchange between individuals and species, a phenomenon called Horizontal Transfer (HT). HT is defined as the transfer of DNA fragments between organisms other than through reproduction.
HT is a common process in several Bacteria and Archaea clades being considered a major force driving gene acquisition and hence adaptive evolution in these organisms [1]. In eukaryotes, a small number of HT events were reported until the 1990's [2] with strong evidence available primarily for the transfer of genomic entities known as transposable elements (TEs) [3]. TEs are selfish mobile genes, capable of using the host molecular machinery for their own replication with no direct benefit to the host genome [4]. HT can only occur when a DNA piece successfully invades the genome of the receptor species and is then transmitted by VT to the next generation [5]. Therefore, such events are highly impacted by the different cell/tissue structures, the reproductive mode as well as the degree of interaction of the species involved [6–9]. Several multicellular eukaryotic species present several barriers to DNA exchange by HT such as: (i) cellular differentiation into gametic and somatic cells; (ii) a much lower proportion of gametic cell compared to somatic ones; and (iii) different levels of tissues differentiation.
TEs are commonly known as genomic parasites and, as such, are mostly detrimental to the host [4]. On the other hand, its inherent capacity of mobilization, excision from one DNA loci and insertion into another, increases its chance of invading new genomes compared to non-mobile genes [10].
Since the first HTT reports by Daniels et al. 1984,1990 [3, 11], many other studies were published in which these events were reported in a wide variety of eukaryotic taxa including insects, reptiles, mammals, plants and also between both close and distant related species [12–24]. Up to now, more than 2800 HTT events have been described. HTT between eukaryotes has been drawing a considerable attention in the TE scientific literature for the last two decades that a particular acronym was coined to emphasize its importance: Horizontal Transposon Transfer or Horizontal Transfer of Transposable elements (HTT) [5, 10]. Moreover, a database was created to keep track of new events reported in the literature [25].
In this review we will discuss the latest findings, new methodologies for HTT detection and open questions regarding HTT phenomenon.
Conclusions and perspectives
Future directions and prospects
As expected in any scientific field some answers open up an entire set of new questions about a given phenomenon and HTT phenomenon is no exception. The availability of new genomes allowed us to detect HTT in a wide variety of taxa and we can now devise some raw, yet very speculative, estimates of those events in nature. Moreover, broad scale studies as reported throughout this review allow us to identify TEs families which are prone to undergo horizontal transfer between species, new interacting species which exchange TEs frequently as well as biological and ecological conditions which may influence the occurrence of such transfers. Due to our current knowledge about the mobilome of those host species or communities and the current 'low cost' high throughput sequencing, we can now set long term experiments to track HTTs using different approaches as suggested below:
Species-pair approach
A set of interacting species should be chosen, which match a number of premises thought to enable TE exchange by HTT. By this, we mean an intimate ecological relationship as predator-prey and parasitism relationships along with mobilome features, such as high incidence of HTT events previously identified between those species and a young mobilome with several active TEs which are more likely to transfer between species. Moreover, it would be an advantage if such pair of species could breed in laboratory conditions combined with small generation time and large number of descendants. Such species-pair should evolve mimicking natural conditions: foraging in the same site or sharing of parasites. The mobilome of those species could them be characterized prior to the experiment. Thus, we could precisely and timely determine new HTT events performing new rounds of genome sequencing and mobilome characterization after species interaction. However, it is important to point out that tightly controlled experiments are needed together with several lines of evidence showing that a given TE was transferred horizontally between those species to avoid the possibility of contamination.
Finding such species pairs which match all HTT interesting premises may be difficult but several interacting entities are good candidates. One example is predator-prey relationship which has been shown to influence HTT events between insectivorous bats and insects [21] and impact directly the chance of endosymbiotic bacteria as Wolbachia to transfer horizontally from prey to the predator [109, 110]. However, conflicting results were observed from different predator-prey species sets [111, 112]. Such differences are expected due to specificities of each interaction such as: the encounter frequency, the infectivity of the potential vector entity (bacteria lineage) and the ability to invade a new host cell which can have significant molecular differences than the previous host. Another important point is that, based on the features of the predator-prey species pairs, one can design experiments which increase HTT opportunities to take place, that is, depending on the phylogenetic distance between the two involved species. Another example is the virus-host parasitic relationship, since virus genomes do not only exchange DNA with their host genomes but are also identified as one of the main HTT vectors which could mediate the transfer of a given TE to a new host (discussed in section New evidence for long standing hypothesis: HTT vectors). Several viral features are compatible with the hypothesis of being a vector for TE transfer as reported before in the New evidence for long standing hypothesis: HTT vectors section. Based on that one can set up experiments with viruses which have a wide-host spectra, produce mild infection which can reach germline cells and do not kill most of the infected host individuals and that can integrate themselves into the host genome. An experiment could also be proposed where the viral genome is reconstructed with an active TE insertion and then allow its propagation in a specific host which the TE insertions can be tracked with different molecular techniques. The fact that viruses replicate abundantly will increase the chance of HTT happening.
Symbiosis is another ecological relationship usually highlighted as having great potential for HT opportunity since it is normally the outcome of a long interaction and evolutionary trajectory. Therefore, we have should expect to detect more ancient HTT events and maybe are not well suited for recent HTT detection.
Community level approach
Such approach is clearly more complex since it is expected to track not one or two host species mobilome but, in fact, several interacting species mobilomes, thus presenting an array of ecological relationships in a community. Therefore, obtaining genome-wide information and mobilome description for each species could be challenging and very expensive even with the decreasing cost of sequencing. In order to plan such an experiment, a target sequencing approach could be fine-tuned to obtain information of just a fraction of the Mobilome: the active mobilome. Some methodologies as mobilome-seq [113] could be used to select only active transposable elements in different organisms which can then be compared from time to time for HTT detection. Another important challenge is how to identify most species from a large set of taxa in order to allow a more fine-grained analysis of HTT events. Such community based strategy would be the ideal approach to evaluate the premise and predictions of "Network Method" discussed above.
Another interesting opportunity to explore HTT phenomenon is to follow invasive species populations in real time during the invasion of a new environment. The Mobilome of such species could be characterized by sequencing the genome of ancestral populations from sites where the species originated, and comparing with genomic information of invasive populations as well as interacting species in the new environment. Invasive species usually have a huge increase in population size after an initial bottleneck and are expected to have a higher rate of exposure to HTT events [114]. Moreover, such species might be more permissive to infection by parasites in a new environment, thus making them particularly permissive to HTT. Therefore, it would be a good opportunity to map new HTT events and understand the impact of a new TE in a genome at the molecular level.
Unexplored taxa and intriguing questions
Although our knowledge at the molecular level (genome studies) continue to increase rapidly in different eukaryotic tree branches, there are still large bias of HTT reports in multicellular eukaryotic species. As highlighted earlier, one of the main physical barriers of HTT in multicellular eukaryotic species is the infection of the germline. Those cells normally represent a small fraction of the total cells of the organism and are usually surrounded by other tissues. Germline tissues are also characterized by a large arsenal of molecular weapons to regulate and disable parasites (highly active piRNA machinery [115]). However, some still understudied taxa of unicellular free living eukaryotic species or multicellular eukaryotes with few or no tissue differentiation could become a much better model species due to the almost absence of such barriers. Such species are expected to experience a much higher HTT rate but, at the same time, eliminate TEs rapidly as well due to their compact genomes and large population size. Therefore, the understanding of the HTT phenomenon could benefit from studies focusing on eukaryotic less differentiated organisms or with absence of tissue separation of soma and germline. Some lines of evidence are already pointing to this direction. For instance, the planaria and hydra species were subject to several HTT events [116, 117].
Another still understudied taxa regarding HTT is fungi. So far only 9 HTT cases have been well characterized [118–121]. But extensive TE characterization of more diverse set of fungi species suggests other potential HTT events [122]. However, in depth analysis with software developed specifically for HTT detection is needed.
Regarding HTT in plants (refer HTT in plants subsection), several new events were uncovered in a large scale study [35]. However, comparing the number of transfers found between plant species (32 HTTs of retrotransposons - 40 genomes surveyed - 0,8 HTTs normalized by the number of genomes) with the most extensive detection of HTT between animal species (2248 HTTs found, 435 HTTs considering only retrotransposons - 195 genomes surveyed - 11,52 HTTs normalized by the number of genomes, 2,23 considering only retrotransposons) [49] indicate a lower HTT rate in plants. 14,4 orders of magnitude more HTTs in animals considering all TEs studied and 2,4 orders of magnitude more HTTs in animals considering only retrotransposons. Therefore, although it is still difficult to separate the influencing factors, it is interesting to speculate that plants seem to have some barrier to the entrance of genetic parasites like transposable elements through HTT.
Based on the similarity of retrotransposons with viruses, we can suppose that they self-propagate to other species through viral-like infection and evolved mechanisms to target germline cells. However, such strategy can have different efficiencies in plant and animal species. Plant species, mainly flowering plants, do not have a clear distinction between germline and somatic cells, the former being originated from single somatic cell [123, 124]. TEs which invade host species by viral-like infection and target germline cells may be very efficient in invading animal germline but not plant species, which would explain the different rates of HTT between them.
Somatic transposition and asexual reproduction
Evolutionary studies addressing HTT assume that invasion of germ cells is an essential step for TEs invasion and the spread into the receptor genome while TEs acquisition by somatic cells can affect an organism during its life time, but are irrelevant in the evolutionary context since they will not be inherited by the next generation. However, these assumptions are valid only for organisms showing sexual reproduction and an early separation between germ and somatic cells. Therefore, such assumption ignores an important fraction of eukaryotic species including several invertebrates, unicellular eukaryotes, as well as the majority of plants. All such species lack segregation between germline and somatic cells and/or germ cells can arise several times from independent somatic stem cells [125–127]. In those species, TEs horizontally transferred to somatic tissues can be incorporated into the genome and propagated for the descendants.
Theoretical models show that asexual reproduction can have a different impact on newly arrived TEs in a receptor genome depending mostly on the population effective size of the species. Large populations tend to eliminate TEs, while in small populations TEs may be extinct due to the Muller's ratchet effect, promoted by their deleterious effect [
128
]. TE data from asexual organisms, such as the Bdelloid rotifers, strengthen this hypothesis showing few TEs in their genomes which are mostly acquired by HT [
129
,
130
]. In addition, many organisms use both reproductive processes, interchanging sexual and asexual phases. Somatic transposition associated with the alternatives cycles of sexual/asexual reproduction can have a strong influence in the HTT rate in these organisms as well (Fig.
5
). The large TE content present in the Hydra genome, which a large portion was acquired by HTT, could be attributed to the somatic "acquisition" and the sexual/asexual reproduction cycles [
116
].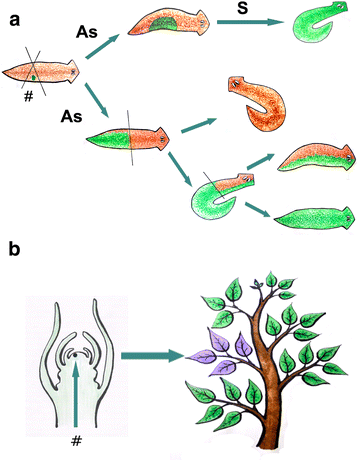 The distribution of HTT events along the eukaryotic tree should be reevaluated keeping in mind the differences in the reproductive modes observed among eukaryotic species along with the role of somatic invasion by TEs. Somatic TE acquisition may be irrelevant in some reproductive systems but can be important in others. Somatic transposition and reproductive systems need more attention in HTT studies.
Could HTT be used to make inferences on host biology?
Massive detection of HTT events in taxa can reveal several host-permissive features which allow the exchange of genetic material between species. Information about permissiveness of parasites exchange such as TEs can be a proxy for the likelihood of other parasites (viruses and bacteria) exchange between host species. Several parasites are now being used for biological control of insect pests such as pathogen-vector mosquitoes and knowledge of the probability of parasites escape to other non-target species through HT is important information to consider when evaluating biological control safety.
Such data can also be explored to generate new hypotheses and insights about host biology such as species interaction which occurred in the past allowing the exchange of parasites (refer HTT in birds above and reference [25]) or detection of reservoir species.
In summary, having a more detailed view of HT phenomenon among eukaryotic species can improve our ability to understand host/parasite coevolution as well as exploit this information for development of new biotechnology [96].
Should we reconsider eukaryotes phylogenetic trees as networks as proposed for prokaryotes?
The rate with which new HTT findings are reported among distant and close related eukaryotic species is showing that representing the evolution of eukaryotes using only tree like structures is not satisfactory and that connection between trees branches other than by vertical transfer should be considered. However, different from Bacteria and Archaea most genes are transmitted vertically and the HT extent in eukaryotes are orders of magnitude lower than in prokaryotes even only considering TEs. Therefore, the best representation of eukaryotes evolutionary relationships should be the traditional tree like structure but with the addition of intermediate link representing HTT events.
HTT and impact on eukaryotes evolution
Understanding the impact of TEs on host genomes is one of the most active research areas, yet still with few clear demonstrated examples only in model organisms. Most of the HTT events characterized so far were described in non-model species challenging the evaluation of their impact on the receptor genome. Besides, a recently arrived TE usually undergoes a transposition burst, where a TE can reach from tenth to thousands of copies until elements degenerates or the host regulatory machinery begin to regulate it. At this amplification phase, a newly arrived TE is more likely to generate adaptive insertions which brings new advantageous features to the host genome. HTT may have an impact on genome size. For example, Peccoud et al. 2017 estimated that transferred TEs contribute on average 2% of the insect genome but this number could be up to 24% for some species [49]. Other studies showed indirect evidence of HTT and transposition burst shortly after such events associated with polyploidy and speciation events in salmonids [131] and mammals [132, 133]. Another known example was the co-option of a DNA transposons which underwent horizontal transfer and emerged as a fused new gene specific to murine rodent species [15]. Moreover, the most well-known and, as far as we are aware, the single most well-understood case of TE invasion by HT associated with impact on the host genome is the P element and hybrid dysgenesis phenotype described in section ("P element in Drosophila simulans"). Therefore, although it is likely that horizontally transferred TEs do have an impact on host genomes, we still need to experimentally test this in several species. HTT impact and consequences can change the way we understand species involved in HT evolution and eukaryote evolution based on the promiscuity of such events.
Databasing and data availability
The unprecedented amount of data about HTT is allowing a quantitative assessment of several questions as reported earlier. However, it also poses new challenges such as: I - new findings should be checked carefully against previous findings to remove information duplication; II - in order to make inferences about ecological factors a good databasing is necessary to keep track of all information and connectivity between them; III - the need for benchmarking and performance comparison of the different detection methods; and IV - wide application of standard methods in several taxa.
With those new challenges in mind we call all researchers working with TEs and HTT to make available as much data as possible to incorporate into HTT database, thus ensuring that future studies can use the information to check against previous detected transfer and benchmarking new methods and pipelines.
In conclusion, HTT among eukaryotes can now be seen as a real and important phenomenon for host genome evolution. Moreover, we can consistently affirm that new events will continue to be found following the increased use of new software and approaches specifically designed to explore the evolution of TEs in under explored taxa giving us a better view of the TE network and its impact across Eukaryote evolution.
Abbreviations
CUB:

Codon Usage Bias
dS:

Synonymous Substitutions
ENC:

Effective Number of Codons
HT:

Horizontal Transfer
HTT:

Horizontal Transfer of Transposable elements
TE:

Transposable Elements
VHICA:

Vertical and Horizontal Transfer Consistency Analysis
VT:

Vertical Transfer
Declarations
Acknowledgements
We thanks the reviewers for the useful comments to improve the final version of the manuscript.
Funding
This work was supported by the ANR (grant Exhyb ANR-14-CE19-0016-01) and the CNRS.
Availability of data and materials
Not applicable.
Authors' contributions
GLW analyzed and interpreted the data from literature. GLW, CV and ELSL wrote the manuscript. All authors read and approved the final manuscript.
Ethics approval and consent to participate
Not applicable.
Consent for publication
Not applicable.
Competing interests
The authors declare that they have no competing interests.
Publisher's Note
Springer Nature remains neutral with regard to jurisdictional claims in published maps and institutional affiliations.
Open AccessThis article is distributed under the terms of the Creative Commons Attribution 4.0 International License (http://creativecommons.org/licenses/by/4.0/), which permits unrestricted use, distribution, and reproduction in any medium, provided you give appropriate credit to the original author(s) and the source, provide a link to the Creative Commons license, and indicate if changes were made. The Creative Commons Public Domain Dedication waiver (http://creativecommons.org/publicdomain/zero/1.0/) applies to the data made available in this article, unless otherwise stated.
Authors' Affiliations
(1)
Entomology Department, Aggeu Magalhães Institute, Oswaldo Cruz Foundation, Recife, Brazil
(2)
Université de Lyon, Université Lyon 1, CNRS, Laboratoire de Biométrie et Biologie Evolutive, UMR5558, Villeurbanne, France
(3)
Department of Biochemistry and Molecular Biology, Federal University of Santa Maria, Santa Maria, Brazil