Bacterial group I introns: mobile RNA catalysts
Received: 16 December 2013
Accepted: 24 February 2014
Published: 10 March 2014
Abstract
Group I introns are intervening sequences that have invaded tRNA, rRNA and protein coding genes in bacteria and their phages. The ability of group I introns to self-splice from their host transcripts, by acting as ribozymes, potentially renders their insertion into genes phenotypically neutral. Some group I introns are mobile genetic elements due to encoded homing endonuclease genes that function in DNA-based mobility pathways to promote spread to intronless alleles. Group I introns have a limited distribution among bacteria and the current assumption is that they are benign selfish elements, although some introns and homing endonucleases are a source of genetic novelty as they have been co-opted by host genomes to provide regulatory functions. Questions regarding the origin and maintenance of group I introns among the bacteria and phages are also addressed.
Keywords
EvolutionGroup I intronsIntron splicingIntron mobilityHoming endonuclease genesIStrons
Introduction
Group I introns are structured self-splicing introns that in part persist in genomes by minimizing the impact of their insertion into host genes. This is accomplished by autocatalyzing their removal (splicing) from primary transcripts, restoring a contiguous and functional host transcript. The ability of group I introns to self-splice and therefore act as ribozymes was first demonstrated by Cech's group for a group I intron inserted within the nuclear large subunit rRNA gene in the protozoan Tetrahymena thermophila [1]. At the same time Michel [2] recognized that organellar group I introns can fold into conserved secondary structures at the RNA level. These observations, when combined with the work by Cech's group, led to a better understanding of how group I intron ribozymes promote their splicing from transcripts and the ligation of the adjoining exons [3]. Many group I introns can self-splice in vitro without assistance from protein co-factors, although splicing in vivo is dependent on, or enhanced by, intron- and/or host-encoded factors [4].
Group I introns can be divided into two general classes, those that encode open reading frames (ORFs) and those that do not. Group I introns with ORFs can function as mobile genetic elements that can move within and between genomes by inserting into cognate alleles that lack intron insertions [5]. Here, intron-encoded ORFs function as so-called homing endonucleases (HEases) that cleave intronless alleles to promote a DNA-based recombination-dependent mobility mechanism referred to as intron homing [5, 6]. The first experimental connection between DNA endonucleases and intron mobility stemmed from a detailed analysis of the mtDNA yeast omega (ω) locus [7–9]. Mating of two yeast, one with the ω locus and one without the locus, resulted in a much higher frequency of ω inheritance than would be anticipated from random assortment of alleles. Later characterization showed that intron movement was driven by the homing endonuclease encoded within the intron, generating a double-stranded break in the intronless allele at a position close to where the intron is inserted in the intron-containing allele (the intron insertion site). Similar findings of high frequency inheritance of introns were later found from mixed infections of intron-containing and intron-lacking bacteriophages [10]. It is generally assumed, yet infrequently shown experimentally, that these findings may also apply to organelles and to some degree towards bacterial introns.
The phylogenomic distribution of group I introns is diverse, as they are found in bacterial, phage, viral, organellar genomes and often nuclear rDNA genes of fungi, plants, and algae (Figure
1
). Intriguingly, group I introns are scarce among early branching metazoan mitochondrial genomes [
11
], and so far have not yet been detected in the Archaea [
12
]. Bacterial group I introns are mostly confined to structural RNA genes (rRNA and tRNA) and are less frequently inserted within protein-coding genes. Group I introns have also been reported from a variety of bacteriophages [
13
–
15
] where they tend to be inserted within conserved protein-coding genes. Other intron and intron-like elements are encountered within prokaryotic genomes, such as group II introns, Archaeal tRNA introns, and bacterial rDNA intervening sequences [
16
–
18
], however this review will focus on group I introns.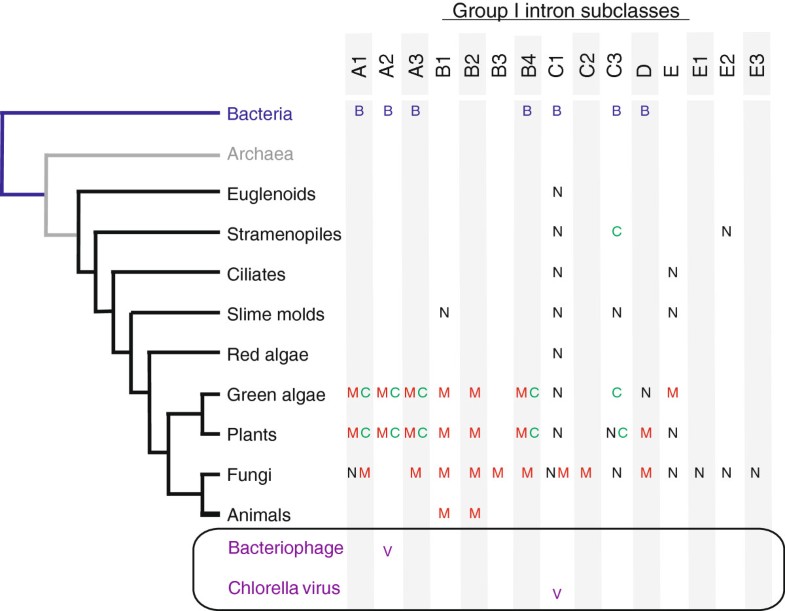 Conclusions
The mechanisms that promote and prevent group I introns from proliferating among bacterial genomes are poorly understood, as is the long-term impact of introns on organismal viability. When present, it is assumed that introns are phenotypically neutral, yet the co-opting of intron functions by a riboswitch or the domestication of intron-encoded homing endonuclease as a regulatory protein (WhiA) indicates that introns can be a source of genetic novelty. Future research efforts directed at understanding the effect of group I introns on host gene expression, mechanisms of mobility to ectopic sites and their spread among bacterial genomes and phages will lead to valuable insights regarding the dynamics and evolution of group I introns.
Abbreviations
bp:

base pair
c-di-GMP:

cyclic diguanylate
DSB:

double-strand break
GTP:

guanosine-5′-triphosphate
HEase:

homing endonuclease
HEG:

homing endonuclease gene
HUH:

endonuclease motif
IGS:

Internal Guide Sequence
IS:

insertion element
ORF:

open-reading frame
rRNA:

ribosomal RNA tRNA, transfer RNA
SDSA:

synthesis-dependent strand annealing.
Declarations
Acknowledgements
This work was supported by a CIHR Operating Grant (MOP-97780) and a CIHR New Investigator Salary Award to DRE. GH's research on mobile introns is supported by a Discovery Grant from the Natural Sciences and Engineering Research Council of Canada. MH would like to acknowledge support by the Egyptian Ministry of Higher Education and Scientific Research.
Authors' Affiliations
(1)
Department of Microbiology, University of Manitoba, Winnipeg, Canada
(2)
Department of Biochemistry, Faculty of Medicine, University of Montreal, Montréal, Canada
(3)
Department of Botany, Faculty of Science, Suez University, Suez, Egypt
(4)
Department of Biochemistry, Schulich School of Medicine and Dentistry, Western University, London, Canada
Copyright
© Hausner et al.; licensee BioMed Central Ltd. 2014
This article is published under license to BioMed Central Ltd. This is an Open Access article distributed under the terms of the Creative Commons Attribution License (http://creativecommons.org/licenses/by/2.0), which permits unrestricted use, distribution, and reproduction in any medium, provided the original work is properly credited. The Creative Commons Public Domain Dedication waiver (http://creativecommons.org/publicdomain/zero/1.0/) applies to the data made available in this article, unless otherwise stated.