DINE-1, the highest copy number repeats in Drosophila melanogaster are non-autonomous endonuclease-encoding rolling-circle transposable elements (Helentrons)
Received: 1 April 2014
Accepted: 9 May 2014
Published: 4 June 2014
Abstract
Background
The Drosophila INterspersed Elements-1 (DINE-1/INE1) transposable elements (TEs) are the most abundant component of the Drosophila melanogaster genome and have been associated with functional gene duplications. DINE-1 TEs do not encode any proteins (non-autonomous) thus are moved by autonomous partners. The identity of the autonomous partners has been a mystery. They have been allied to Helitrons (rolling-circle transposons), MITEs (DNA transposons), and non-LTR retrotransposons by different authors.
Results
We report multiple lines of bioinformatic evidence that illustrate the relationship of DINE-1 like TEs to endonuclease-encoding rolling-circle TEs (Helentrons). The structural features of Helentrons are described, which resemble the organization of the non-autonomous partners, but differ significantly from canonical Helitrons. In addition to the presence of an endonuclease domain fused to the Rep/Helicase protein, Helentrons have distinct structural features. Evidence is presented that illustrates that Helentrons are widely distributed in invertebrate, fish, and fungal genomes. We describe an intermediate family from the Phytophthora infestans genome that phylogenetically groups with Helentrons but that displays Helitron structure. In addition, evidence is presented that Helentrons can capture gene fragments in a pattern reminiscent of canonical Helitrons.
Conclusions
We illustrate the relationship of DINE-1 and related TE families to autonomous partners, the Helentrons. These findings will allow their proper classification and enable a more accurate understanding of the contribution of rolling-circle transposition to the birth of new genes, gene networks, and genome composition.
Keywords
Helitron Rolling-circle transposon INE-1 DNAREP1 Transposable element
Background
Repetitive DNA constitutes a major portion of most multicellular eukaryotic genomes. This fraction includes tandem and interspersed repeats. Transposable elements (TEs) are the major constituent of the interspersed repetitive DNA. Class 1 retrotransposons utilize an RNA intermediate and Class 2 DNA transposons utilize a DNA intermediate as the basis for transposition (for review [1]). The RNA mediated reactions are a copy-and-paste mechanism because an RNA transcript is copied to DNA. The cut-and-paste DNA transposons move the excised double-stranded DNA sequence of the transposon to a new target location (for review [1]). The rolling-circle transposons (Helitrons) like the retrotransposons use a copy-and-paste mechanism despite moving a DNA intermediate [2]. They are hypothesized to mobilize a single-stranded DNA molecule to a new target location [3]. Whether a TE family uses a copy-and-paste versus a cut-and-paste mechanism in part influences its relative abundance in a genome (for review [1]). TEs are distinguished from other forms of repetitive DNA because they replicate via self-encoded proteins (autonomous) or by hijacking TE encoded proteins (non-autonomous) (for review [4]). Hijacking the proteins of autonomous TEs appears to be a successful strategy as non-autonomous TEs generally outnumber the autonomous partners. Therefore both the replication mechanism, copy versus cut-and-paste and whether or not the TE is protein-coding influence copy number.
Genome-wide analysis allows the identification of entire populations of TEs in a genome, which includes old and inactive families as well as young, active copies. The classification of autonomous TEs is generally straightforward based on the encoded protein(s), the structure of the mobile unit, and the modification of the target site (TSD). While, the non-autonomous TEs do not encode proteins, they can often be classified based on structural features and TSD. Indeed, non-autonomous TE families can be linked to autonomous partners because they share common structure and TSD, which greatly facilitates classification. However, some non-autonomous families defy classification because they lack distinctive structural features, which enable a link to be made to autonomous partners.
The Drosophila Interspersed elements (
DINE-1
) identified [
5
] on the dot chromosome and heterochromatic regions in the
D. melanogaster
genome fall into the category of non-autonomous TEs that have defied classification [
6
,
7
]. While
DINE-1
elements lack coding capacity they do display well-defined structural features. The structural features include 13 bp subTIRs, a short inverted repeat (IR) (approximately 3 to 22 bp away from the 5' subTIR) and a short stem loop at the 3' end [
7
] (Figure
1
). Analyses of target site preferences in drosophilid genomes revealed a clear insertion preference for a TT dinucleotide but were inconclusive as far as target site modification [
5
–
7
]. These analyses allowed the definition of a core
DINE-1
sequence and the observation that they carry a short microsatellite sequence [
7
].
DINE-1
elements have also been called
INE-1
[
8
] and DNAREP1 [
9
]. For the purposes of this study we refer to all related families from Drosophila as
DINE-1
.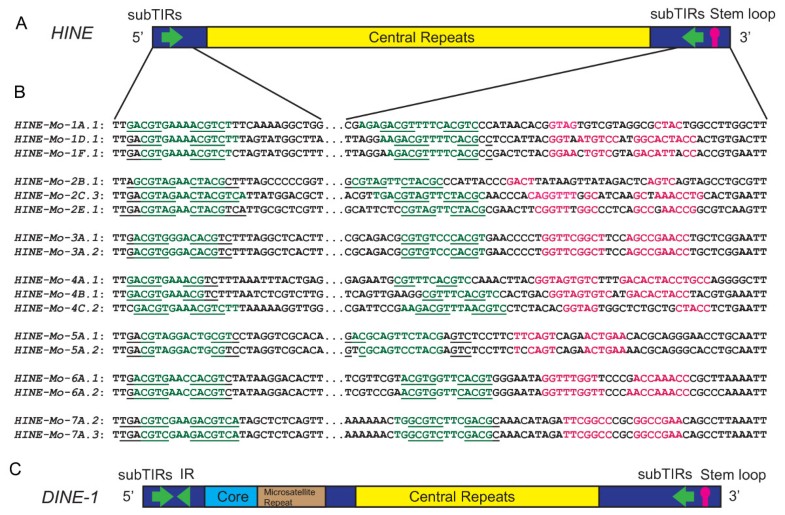 TEs with structural characteristics similar to DINE-1 (DINE-1 like) have been described in the several other genomes including several drosophilids (Additional file 1: Table S1) [10–20]. DINE-1 like elements are most abundant in the centromeres and heterochromatic regions of the chromosomes of drosophilids [5, 6, 10, 16, 21]. In D. serido they also predominate the heterochromatic regions of the sex chromosomes [16]. Recently active copies were found more evenly spread towards the chromosome arms and in the euchromatic regions [6, 7, 10]. Some DINE-1 like elements contain tandem repeats [16, 22–24] in addition to the microsatellites that are typical of the structure [7].
Outside of Drosophila, DINE-1 like elements have been identified in many lepidopteran [25–27], hemipteran [27], and dipteran [10, 28] genomes (Additional file 1: Table S1). These elements are also described from the genomes of sea urchin [24] and molluscs (Additional file 1: Table S1) [22, 23, 29]. DINE-1 like elements have attained high copy number in drosophilids [10] and other insect and invertebrate genomes (Additional file 1: Table S1) [22, 24, 25, 27, 28]. In D. melanogaster DINE-1 elements are the most abundant TE (for review [30]) and constitute 9.2% (approximately 114 kbp) of the dot chromosome [21].
DINE-1 like elements are reported to be involved in the duplication or generation of novel genes in Drosophila although whether this is direct or indirect is unclear and the mechanism remains elusive. Most of the known functional duplicates are associated with gametogenesis [31–34]. In D. miranda the DINE-1 like elements provide the binding sites for male specific lethal complex, which regulates dosage compensation [12, 35]. In addition, DINE-1 elements are reported to provide putative transcription factor binding sites in insecticide resistance associated Cyp genes [36]. The myriad of ways that DINE-1 elements have impacted Drosophila evolution [12, 31–34, 36], suggests many important innovations may await discovery.
The lack of structural similarity with an autonomous partner precluded the proper classification of DINE-1 families. Indeed, these elements were initially classified as non-LTR retrotransposons perhaps because of the asymmetrical ends [5, 9, 11, 14]. The interpretation of TSD creation led to the classification as the non-autonomous partners of classic cut-and-paste DNA transposons or Miniature Inverted-repeat Transposable Elements (MITEs) in some cases [6, 10, 22, 23, 26, 27]. However, in other examples, no TSD could be readily identified and these elements were classified as Helitrons. Further support of the Helitron classification came with the identification of gene fragments with homology to the proteins encoded by some Helitrons, Helentrons and non-LTR retrotransposons [7, 25, 37] (for review [30]). Because the structure of the DINE-1 like elements differed from canonical Helitrons[2], the relationship to Helitrons was not clear [7].
The canonical Helitrons have well defined ends (5' TC and a 3' CTRR) as well as a 16 to 20 nucleotide palindrome, which is approximately 11 bp away from the 3' end [2]. They always insert between A and T nucleotides and do not create any TSD [2]. A putatively autonomous animal Helitron typically encodes a single transposase open reading frame (ORF) (Rep/Helicase) with a zinc-finger, a rolling-circle motif (Rep), and a helicase domain. The plant-Helitrons encode additional ORFs related to ssDNA binding protein, Replication Protein A (RPA) (for review [30]). The non-autonomous partners of Helitrons vary in length, but share structural homology with the autonomous Helitron partners.
Recently two subtypes of Helitrons have been identified, Helentrons[38] and Helitron2[39]. Helentrons are so called because of the presence of an apurinic/apyrimidinic (AP) endonuclease domain fused to the C-terminus of the Rep/Helicase protein [38]. Helentrons encode additional ORFs with homology to OTU cysteine proteases [40, 41] and RPA proteins [2]. The structural features of Helentrons are not known despite reports describing the coding capacity [38, 40, 41]. The Helitron2 elements have asymmetrical terminal inverted repeats and palindromic sequences on both ends. These elements encode a single ORF corresponding to the Rep/Helicase protein with no endonuclease domain [39]. However, the relationship between Helitrons, Helentrons, and Helitron2 elements is not well understood.
Here we describe for the first time the structural features of Helentrons and describe their relationship to Helitrons and Helitron2 elements. This analysis has allowed us to unequivocally link Helentrons to their non-autonomous partners (the DINE-1 like). Previously reported genomic impacts of DINE-1 like transposons are discussed in light of the rolling-circle transposition mechanism. This includes the involvement of DINE-1 elements in gene duplication by de novo chimeric gene assembly and the structural features that predispose co-option into regulatory networks. Presented is a new classification scheme for Helentrons and DINE-1 like families and subfamilies that take into account their sequence heterogeneity. A model of the relationship of Helentrons to Helitrons and the intermediates identified in some organisms is presented.
Conclusions
In this study, we characterized the structural features of Helentrons and identify that they are different from the typical structural features of canonical Helitrons. In addition, we found that Helentrons and DINE-1 like elements share similar structural features, which unequivocally links the DINE-1 like elements as non-autonomous partners of Helentrons. Helentrons and its non-autonomous partners do not induce target site duplications upon transposition, but are flanked by variable number of Ts. We have also identified potential intermediates that have Rep/Helicase protein similar to Helentrons but share the structural characters with Helitrons. Hence our study provides a better understanding of the structure and distribution of Helitron-like elements across taxa. In addition, our studies illustrate that Helentrons are capable of gene transduction as their Helitron relatives.
Methods
Identification of HINEs and Helentrons from the mite genome and other selected genomes
Helentrons and HINEs were identified from the genome of the mite, Metaseiulus occidentalis during a de novo analysis of repeats. Repeatscout [65] was used to generate a consensus of the repeats present in three or more copies in the genome and HINEs were identified during the manual curation of these repeats. The structural characteristics of the HINE elements and Helentrons were compared and analyzed using Blast tools [66]. To identify the distribution pattern, Tblastn searches were carried out using the mite Helentron protein query against wgs, nr, GSS, and HTGS databases. Full-length Helentrons and HINE s were mined from Culex, D. willistoni, D. ananassae, and D. yakuba genomes to verify the relationship between Helentron and HINEs.
Identification of open reading frames, conserved domains, and gene fragments
The Translate (http://web.expasy.org/translate/) and ORF finder (http://www.ncbi.nlm.nih.gov/gorf/gorf.html) tools were utilized to identify Helentron encoded ORFs. The stop codons and frame shift mutations were corrected to obtain an intact the ORF, if necessary. The conserved domain database searches (CDD) [42] and Blastx were employed to identify putative functional domains of the Helentron encoded proteins and related sequences in other organisms. The low complexity filter was applied during CDD searches to avoid spurious results. Significant hits (e-values <10-03) were further explored. To identify potential protein-coding gene fragments within Helentrons and HINEs, we employed Blastx/CDD based searches and significant (e-values <10-03) hits (other than TEs) were further explored.
Identification of paralogous empty sites
To confirm the boundary of the elements, paralogous sites without the insertion (empty sites) were identified. To identify empty sites, a chimeric query constructed from 50 bp upstream and downstream of the element was utilized for homology-based searches (Blastn) against genomes. Hits with ≥90% identity over 90% of the query are considered as an empty site.
Alignments and phylogenetic analysis
Alignment of the putative proteins encoded by Helentrons, Helitrons, and other bacterial plasmids or viruses that encode similar proteins were constructed employing MUSCLE (http://www.ebi.ac.uk/Tools/msa/muscle/) using default parameters. The alignments were visually refined using Genedoc (v. 2.7), [67]. Phylogenetic analysis of the Rep motifs and helicase domains was conducted using MEGA (v 5.05) [46] by constructing a NJ tree and the parameters selected were JTT matrix based model, 1,000 bootstrap replicates and pairwise deletion. A maximum likelihood analysis (JTT matrix based model, 1,000 bootstrap replicates) was also performed using MEGA (v 5.05) [46].
Abbreviations
CDD:

Conserved domain database
DINE:

Drosophila interspersed element
HINE:

Helentron associated interspersed element
JTT:

Jones Taylor Thornton
LTR:

Long terminal repeat
MITEs:

Miniature inverted terminal repeat elements
ORF:

Open reading frame
OTU:

Ovarian tumor
RPA:

Replication Protein A
SD:

Standard deviation
SET:

Su(var)3-9 and 'Enhancer of zeste'
TE:

Transposable element
TIR:

Toll-like Receptors
TSD:

Target site duplication.
Declarations
Acknowledgements
This work was supported by start-up funds from the University of Utah to EJP. The funding body has no role in design, in the collection, analysis, and interpretation of data, in the writing of the manuscript; and in the decision to submit the manuscript for publication.
Authors' Affiliations
(1)
Department of Human Genetics, University of Utah, Salt Lake City, USA
(2)
Department of Cancer Biology, MD Anderson Cancer Center, Houston, USA
Copyright
© Thomas et al.; licensee BioMed Central Ltd. 2014
This article is published under license to BioMed Central Ltd. This is an Open Access article distributed under the terms of the Creative Commons Attribution License (http://creativecommons.org/licenses/by/4.0), which permits unrestricted use, distribution, and reproduction in any medium, provided the original work is properly credited. The Creative Commons Public Domain Dedication waiver (http://creativecommons.org/publicdomain/zero/1.0/) applies to the data made available in this article, unless otherwise stated.