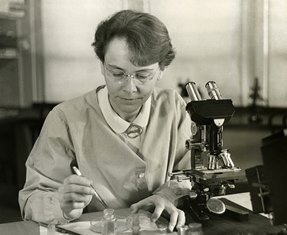 Mobile DNA celebrates Transposon Day every June 16th, to commemorate the birthdate of the founder of transposable elements research, Barbara McClintock (1902-1992). This day was designated to honor her legacy and draw attention to the important research that has changed the way researchers think about evolution, disease, and genomics.
Last Fall, a mini-symposium reflecting on Barbara McClintock's background and scientific contributions was held at Memorial Sloan Kettering Cancer Center. Watch the recording of this event here: The Life and Legacy of Barbara McClintock. Dr. Molly Gale Hammell, Associate Professor at Cold Spring Harbor Laboratory, who was one of the presenters at this event, kindly shared her slides with us for this day.
We encourage the TE community to share your thoughts about how McClintock's research influenced your own on Twitter, using the hashtag #transposonday2022.
Happy 5th Annual Transposon Day!